Article Archives:
Next of 738 articles


FRIDAY UPDATE


Sisters & Brothers,

On this Friday Local 1014 Executive Board asks our membership to take a moment to appreciate all we have as well as recognize the risks of our job, both physical and mental. We ask that you take care of each other. We are proud of our Behavioral Health Program and our Peer Support Team and all we have done to move behavioral health to the forefront of our profession.

The Los Angeles County Fire Labor-Management Behavioral Health Program with our peer-driven clinician-supported network has become the envy of the state. We have the most well-trained experienced peers who handle hundreds of outreaches per month. We have come a long way to break the stigma and recognize that mental injuries can and do occur as regularly as physical injuries.

Our Peer Support Team is often called on by other IAFF Locals throughout the nation and without hesitation, we respond in their time of need. Chief Osby has been extremely supportive and leads the Chiefs in the state to allow our teams to help others in addition to the work for our own members. We want to thank the Chief and the Board of Supervisors for always fueling our efforts as we deploy through the IAFF to these local in need.

Captain Scott Ross is an IAFF Master Peer Instructor and Ocean Lifeguard Specialist Lauren Dale is the Master Peer for the Lifeguards. Together with a team of Peer Leads and 132 peers, we are one of the most well equipped, trained, and experienced teams in the nation. Our Peer Teams have helped during 911, Katrina / Rita, Atlanta Olympic Bombing, Route 91 Shooting, Granite Mountain, El Paso Mass Shooting Incident, Paradise and Woolsey Fires, and more.

We want to give a special thank you to the Peer Team Leads who work to coordinate almost everything we do and all of the peer team work. These last two months we were once again called on to help out two Departments/Unions in their time of need. We were honored to answer the call.

Chula Vista Firefighters Burned

On January 25th four Chula Vista Firefighters were burned on a commercial building fire with two suffering 3rd-degree burns and physical trauma. We got the call from Daryl Roberts, Union President and 1st District Vice President on the CPF Board asking for Peer Support and Serious Accident Review Team (SART) support. Chief Osby approved both teams to respond to Chula Vista almost immediately. Our Peer Support Team provided the infrastructure to support their inured members and families.

The SART Team led by Director Pat Dolan and Chief Will Pryor, both of whom have completed Serious Accident Review Team training, responded to cover lessons learned, and provided incident investigation support. It is an art to leave blame and/or discipline issues at the door and get to the heart of what went right and what went wrong to help our members stay safe in the future. Kudos to the Chula Vista Chief Officers and Staff for keeping this completely about the lessons learned. Thanks to BC Dejong, BC Martin, and Captains Golondzoneer, Christianson, and Freeman for their dedication and work over the last two weeks on this.
Behavioral Health Response Santa Clara City Fire

Our Santa Clara Brother Troy Buzzell took his own life after a long battle with work-related PTSD and physical injuries. A well-liked firefighter with Santa Clara City Fire Local 1171, the 130 member department was hit very hard at all levels by this tragedy.

Local 1014 got the call through the IAFF and again Chief Osby approved our team to respond to Santa Clara. We helped bolster thier local resources and assisted in reaching out to all three shifts, 40-hour personnel, dispatch, and even retirees and family members who were affected by the loss.

The Santa Clara Fire Council made up of Santa Clara County, Santa Clara City, Milpitas, Gilroy, Moffett Field Feds, Mountain View, Palo Alto, and San Jose came together and supported each other. Troy Buzzell leaves behind a wife and two kids, ages 6 and 10 years old. We are grateful that we were able to help begin the healing process and put in motion a network of resources and help for anyone who needs it.
(Top) President Dave Gillotte meets with the Santa Clara Fire Council along with 4th District Vice President Vince Wells to pay tribute to Troy Buzzell at the San Jose FF's Union Hall. (Left) Master Peer Scott Ross briefing our Peer Team before deployment to the field. (Center) 24 - 7 Santa Clara Fire stand watch over their Brother (Right) Santa Clara Fire Lead Peer Jenn Panco meets with LA County Peer Leads to line out all the work to be done.
We are honored to have been able to help our brothers and sisters in their times of need, and we know they are there for us if we need them. This network of peers throughout the nation and in particular within the state of California is exemplary and has grown to provide the resources we need for our members.

Once again thank you to our members, of both the Peer Support and SART Teams, in particular the leads who lift so heavy to make it all happen.
Looking into the Future regarding The Performance Net
By Director Pat Dolan
After a couple of years of telling us that The Performance Net-based annual PE's were coming, well…they are here and we are fully aware of it. After completing my crew's annual Performance Evaluations, I honestly was left scratching my head. Here were a few questions I had.
How and where did this document come from?
Who developed it?
Why does the grading criteria have literally nothing to do with our daily job specifications?
AND MOST IMPORTANTLY…HOW CAN SUPERVISORS HONESTLY RATE EMPLOYEES WHO HAVE ASPIRATIONS TO PROMOTE?
This is the main reason why I'm writing this message. With the AP appeals fiasco of 2020 nearly behind us, this new Performance Net-based PE document (at least to me) seems like it's going to present problems if not done correctly, at least as it pertains to employees who have promotional aspirations.

The first problematic issue I found was that the Appraisal of Promotability (AP from now on) does not mesh into the new PE format.

This was especially problematic during the AP portion of the Captain's and BC's exams of 2020. I was told during the drafting portion of the newer AP that one of the reasons for changing the AP process from the old version to the new version was to "cut back on the memo writing" in lieu of actual documentation.

Well, fast forward to today, and not only has it NOT cut down on memo writing for documentation, but it has also actually caused it to INCREASE tenfold. Couple that with the fact that the Department decided to disallow memos that weren't formatted correctly, didn't contain enough information, didn't include the EXACT language in the Work Activity title, etc. and you get what we have today.

So, I'm going to try and launch a pre-emptive message to ALL supervisors who are sitting down and trying to complete the new Performance Net PE's. Here are a few tips to try and help future chaos:

Write your crew's PE's as if they are planning to promote tomorrow. Go onto the Department's intranet, print off a version of the Captain and Battalion Chief AP Packet and write your PE's with those documents in mind. Even if your crew member has no intention of promoting, get in the habit of basing the PE off these documents. Trust me on this, it will help him or her in the long run when they decide to change their mind.
Use the specific language in the AP to document Work Activities and other documentation you are citing. DO NOT LEAVE OUT OR OMIT A SINGLE WORD FROM THE TITLE. Again, trust me on this. Failure to adhere to this may cost the employee the points he or she deserves.
The Performance Net-based PE absolutely stinks as it pertains to the AP Packet. So be diligent and use the supplemental information boxes to document what your crew members have done throughout the year (and years). If your crew member has been under your supervision for more than a year, go back and document what that crew member has continuously done under your supervision. (i.e., the Cardfile, Department approved committee work, etc.)
We realize that the categories have been modified, so if you feel that supplemental documentation can fit in several categories, go ahead and put it where ever you feel it fits best, just make sure it gets in there.
And finally, use the last page to summarize and finalize whatever you feel you need to document to tie it all together. Once you hit "submit" it's gone, so take your time and remember, you aren't writing this PE for just this year, you are writing this PE for this crew member's career. Again, trust me on this.

I know change is hard, and the rollout on this Performance Net-based PE was less than adequate, so I hope these tips help you to write your PE's this year and for years to come. Again, you're not writing an "annual PE" you're writing a PE for this crew member's potential future promotability.

1014 Blood Drive

We only have 5 days left until the 1014 Blood Drive. Please sign up today to make a difference for someone in need. The Red Cross is experiencing a severe shortage of blood due to the COVID-19 pandemic which has not only limited donors but also available sites for blood drives. This is the time when our members are needed the most. Step up and donate today!
This drive will be open to the public but by appointment only. No walk-in accepted. We also require donors to fill out an online form in advance, wear a face covering or mask for your appointment, and adhere to our social distancing requirements.
As always, stay safe and take care of each other.

In Solidarity,

President Dave Gillotte and the Local 1014 Executive Board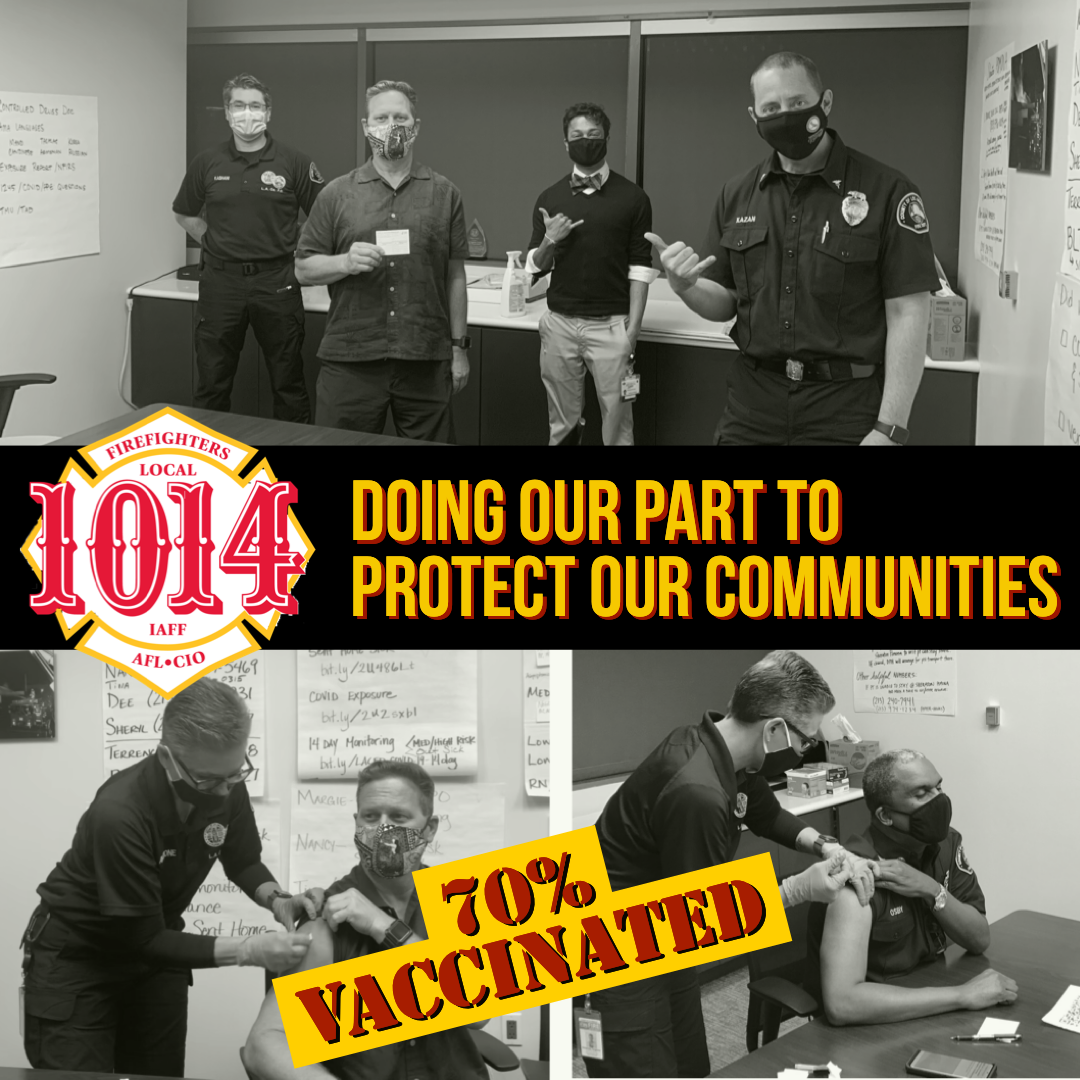 FRIDAY UPDATE


Sisters & Brothers,

This week, we continue to see our vaccine effort positively impacting our COVID numbers. The decline in cases has also kept staffing levels constant. Nearly 70% of our members accepted vaccines and nearly all traceable COVID-positive cases occurred in individuals who declined the vaccine. This is positive news and we are trending in the right direction.

Again, we strongly encourage all members to get the vaccine and help keep all our members and their families safe.



Additionally, we had over 100 retirees respond to the call to help our IMT and vaccine delivery teams. We are all set for now in two-week increments. We have the list and as needs arise we will draw on those members who will, in turn, receive the vaccine for their efforts to help our communities. Thank you again to our incredible membership both active and retired for always stepping up!

Finally, we would like to remind you to sign up for our blood drive! The Red Cross is experiencing a severe shortage of blood due to the COVID-19 pandemic which has not only limited donors but also available sites for blood drives.
This drive will be open to the public but by appointment only. No walk-in accepted. We also require donors to fill out an online form in advance, wear a face covering or mask for your appointment, and adhere to our social distancing requirements.
As always, stay safe and take care of each other.

In Solidarity,

President Dave Gillotte and the Local 1014 Executive Board
Friday_Update_2_5_21221220.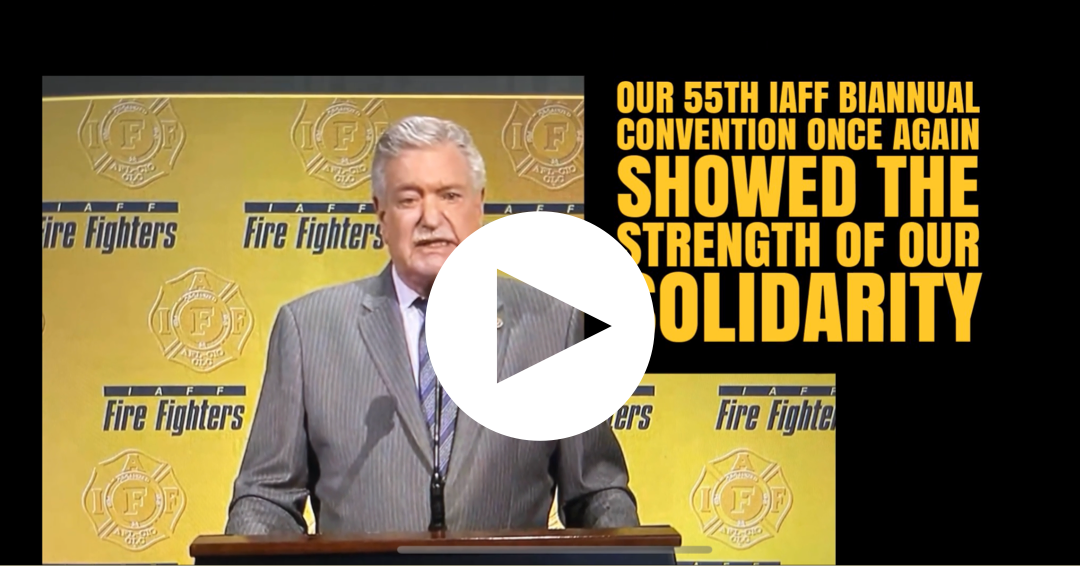 FRIDAY UPDATE


Sisters & Brothers,

Your Local 1014 Executive Board had a busy week. First and foremost we would like to thank the Staffing Committee and the Executive Board who have worked tirelessly, as they do every year, to gather stats, data, and numbers relating to overtime, recalls, augmented staffing, COVID staffing, and emergency staffing. We have always asked to "LET THE WORKERS WORK" with regard to the arbitrary CAP on annual Overtime.

Every year we take our appeal to the Department earlier and earlier and demand the elimination of the CAP, and each year we have successfully garnered an agreement to lift the CAP based on earnings equity and staffing needs.

Thank you to the Fire Chief for engaging in these conversations and taking in all the data to make the decision earlier than ever. With fires, COVID response staffing, augmented staffing, and personnel shortages, our members were called on to work more than ever in 2020. This is an item that we continue to work to eliminate permanently, but this is another annual victory that aids all of our members and their families.
48/96 Trial Shift Change


We also continue hard discussions with the Fire Chief to garner his support on the 48/96 one-year trial shift schedule change. Like the vote, this is a hard issue to put into play. We are committed to this project and deeply engaged in talks with not only the Fire Chief but the CEO and Board of Supervisors.

We are working on the logistics, pros, and cons. Over 60% of our members voted for this item. We have illustrated to the Fire Chief that this will help working conditions for the majority of the members doing the work in the field. Both Sacramento and Orange County Fire all went to the trial WITHOUT their chiefs and we can do the same. The Association of Chiefs (AOC) had a short vote electronically and narrowly voted against the trial for their membership. To be honest, the BCs could actually just go regional response and work on and from a 40-hour network, but that is the AOC business. Similarly, the business of the schedule for the rank and file is Local 1014's business and we don't go in each other's gardens unless invited to help. I know the AOC will respect that line. We welcome them to join us, but they are neither necessary nor critical to the trial.

We will report out at the earliest possible time the product of our conversations with Chief Osby, and his position on the trial. We will move forward from that point once done. Please continue to be patient as we work diligently on the business at hand with this item.

601-602 Bargaining Unit Negotiations
We have been talking with the CEO also on our salary contract for Bargaining Units 601/602 as we set a course for a one-year contract extension as the other public safety unions have agreed to already.

We have a few items to discuss relative to our post-PEPRA members and also talks on the overtime issues before we agree to any such extension. It is critical to always "stay in contract". We have negotiated another 30-day extension until February 28th while we work on these issues with the CEO and BOS. We will let you know as soon as we conclude those talks what we have negotiated with the Board and County.

Thank you for your continued support and, as a Labor organization, we can feel not only fortunate but strong in our efforts to protect our salary increases and benefits as many Unions near us have not been so fortunate. We will always work to protect the Fire District funding and our contracts as we continue to bargain on behalf of the issues and items that benefit our members and their families.

Finally, this week, your Executive Board has been working with Fire Union Labor Leaders from throughout the United States and Canada to set our political and policy agenda for the next two years at the 55th Biannual IAFF Convention. Due to COVID-19, this convention was the first-ever Virtual Convention.

Despite not being in-person, we debated, amended, and approved several resolutions affecting our Union and our members. We work with the California Professional Firefighters (CPF) and our 10th District partners as well as unions from across the nation who align with us on pension, funding, health and safety items to garner vote strength and make our voice heard.

Click here to view the IAFF Resolutions. In particular, we would like to point out Resolution Number 27 titled "Support for Discontinuing the Use of Oriented Strand Board (OSB) for Firefighter Training." This resolution seeks to prohibit the use of OSB board in live burns, and lobby NFPA 1403 to ban the use of OSB containing PMDI for use in live-fire training because of the links to cancer in our members. In fact, after live-fire training using OSB elevated levels of PAH's and Benzene were found in firefighter urine tests. There have been 3.5 times greater levels of hydoxpyrenein found post-use.

We would like to thank our LA Burn Cadre in particular Brother Chad Christianson and Brother Derek Urwin who have worked tirelessly to provide data and alternative methods for live-fire training. They worked together with Fairfax County members and will continue to help at the State level as we work to rid our training centers of this cancer-causing agent. Resolution 27 passed strongly and President Gillotte spoke on the item on behalf of the Local 1014 Executive Board.

President Gillotte also relayed to the convention delegates words from our friend and IAFF President Emeritus Al Whitehead who gave his best wishes for the critical work we have been doing on behalf of our members. Mr. Whitehead asked President Gillotte to convey a message of hope and strength through solidarity. He also reminded us of our many victories on things like Cancer Presumption, LODD Death Investigations, Wellness Fitness Initiative, 2 in 2 Out, NFPA 1710 standards, and more. Finally, he reminded us all that we must not forget that some do not have the benefits and protections we have here. We cannot rest until all brothers and sisters have been brought to or above the bar we set for our members and their families. We need to work tirelessly for National Collective Bargaining including Federal Firefighters, early Medicare for retiree medical cost offset, and protection of federal funding for SAFER ACT, FEMA, UASI and USAR. General President Emeritus carried the message that all Union leaders work tirelessly on behalf of their members "to make a difference" in our profession. Thank you to President Al Whitehead for continuing to be a bold and proud member and leader of Local 1014.
As always, stay safe and take care of each other. Have a great weekend as we move the ball forward 10 yards at a time.

In Solidarity,

President Dave Gillotte and the Local 1014 Executive Board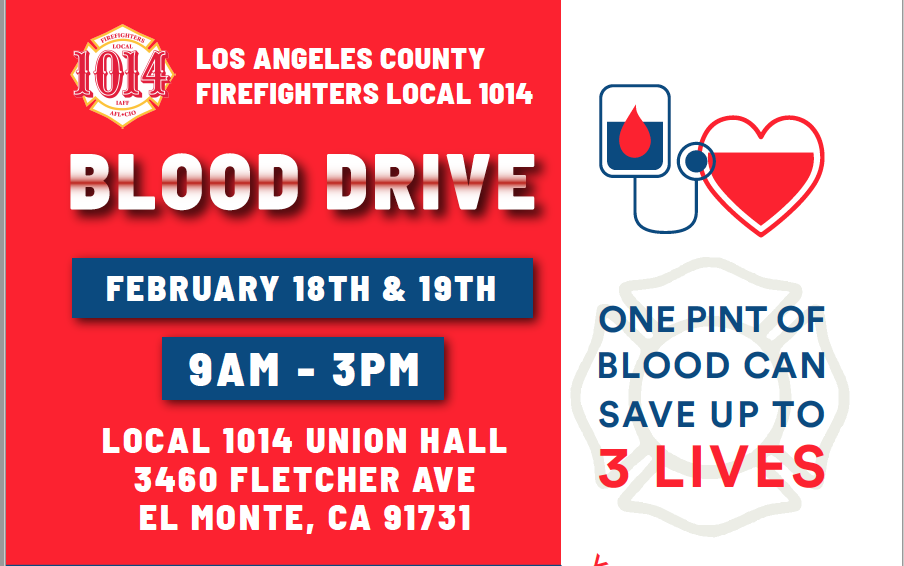 FRIDAY UPDATE


Sisters & Brothers,

As we head into this weekend your Local 1014 Executive Board Members are busy preparing for our Biennial Convention which will be held virtually this year as a result of COVID-19. This provides many more challenges than an in-person convention so extra preparation has been the order of the day to ensure our ability to review and weigh in on all resolutions and elections.
The IAFF Convention is where Fire Union Leaders from across the United States and Canada come together to set a two-year agenda for our members. Resolutions written by members and by Executive Board members of the IAFF will be considered as well as the nominations and elections for our IAFF officers.

Resolutions deal with budget, policy, constitution, and by-laws items. Issues regarding health and safety, cancer and toxins in PPE, NIOSH and OSHA, human relations, and behavioral health, will all be considered, debated and voted on next week.

Your Local 1014 Executive Board will be part of the 10th District representing California, Arizona, New Mexico, Hawaii and Guam, the largest IAFF District. We have been working together with Unions from our district to review the resolutions and content to take positions and debate and vote for our members' best interests. We will be posting information and content on Convention next week as we handle our work.

OT Annual CAP
We continue to ride the Department Administrative Chiefs and the Fire Chief to lift the arbitrary OT Annual CAP and let the workers work. As we have seen, specialty positions go over the cap in all ranks including chiefs, and the need for workers is as strong as ever. We are getting recalled when there are many many members who would rather work. Also we have seen numerous issues with the new electronic Performance Net system that could, at this point, be named the "lack of performance net" system. We have contacted the Department and made them aware of the issues and the need to fix this system as it specifically pertains to allowing documentation of our members' work for the appraisal of promotability and accurate documentation.

Please see the article below from Director Pat Dolan in collaboration with Dr. Clayton Kazan, to help protect our members regarding EMS documentation on calls. This is especially important in this environment of COVID and changing treat and transport policies.
The Art of Documentation

Director Pat Dolan


Needless to say, 2020 was a year like no one has ever seen in regards to how we provide our EMS service. Since March 2020, we wear masks, gowns, face shields, do assessments outside in parking lots, and try to maintain a social distance (when possible). This is the new normal and I don't see it going away anytime soon. Call volume has skyrocketed and so has the toll on our personnel. Constant staffing, in a normal world, is a benefit this Union has negotiated and strived to protect. Yet, in a pandemic, it can stretch us to our breaking points, both physically and mentally, and Local 1014 understands this. We see it also, as we are out on the front lines with all of you.

With all that being said, the Emergency Medical Services Bureau (EMS), in the last several months, has had several instances in which the documentation on COVID-19 patients has been missing key, essential information. Your documentation, or lack thereof, puts you, as the Scene Manager, or you, as the Paramedics, at risk for potential liability and punitive action, and no one wants to see that happen.

In March 2020, the Los Angeles County Emergency Medical Services Agency, or LEMSA, adopted Reference 834.1 which dealt specifically with "low risk" COVID-19 patients in anticipation of a potential surge of COVID-19 patients inundating local emergency rooms. When this didn't materialize, Reference 834.1 was rescinded. Fast forward to December 2020 and the surge DID materialize, and the EMS Agency adopted Reference 845, which is the guideline for "Treat and Refer" for mild respiratory illness during the COVID-19 outbreak.

The purpose of Reference 845 is not to convince patients to avoid the ERs. It is to help you provide good advice to your patients when they either don't want to go to the hospital or ask you for your opinion. Patients that meet ALL of the criteria in Reference 845 could be classified as Low Risk for bad outcomes, and it is OK to advise them that EMS transport and an ER visit do not appear necessary. In this instance, "Treat and Refer" would be the appropriate disposition. However, if the patient still wants to be transported, then they should be transported. If a patient does not meet all of the criteria in 845 and does not want to go to the hospital, then the appropriate disposition is "Against Medical Advice (AMA)," no matter how good they may appear.

Good documentation is so important. If a patient does not want to go to the hospital, even if they meet 845 criteria, document it. If a patient is signing out AMA, make base contact and get it documented on a recorded line. We all know that COVID patients sometimes have bad outcomes, and we never want to be accused of denying transport to someone who wants to go to the hospital or inappropriately triaging a patient as "low risk" when they do not meet the criteria. Remember, it's not the patient that sues you, it's their next of kin. And, it's not the obviously critical case that winds up in a lawsuit...it's the patient that nobody believed was very sick or injured. Good documentation is a habit that can spare you enormous heartache later.

Please familiar yourself with reference 845; either through our Department e-mail or through the DHS website, as there are 15 criteria a patient must meet before we can "Treat and Refer" them. To help you, these criteria will auto-populate if you choose the Provider Impression "Cold/Flu."

The EMS Bureau also has another tool at our disposal which is starting to gain more traction. It's the "Telemedicine Consultation" program which can be requested through Dispatch. This program is live 7 days a week, from 0800-1800 hours, but sometimes will be monitored after hours. The Nurse Practitioner on AP-11 is first up for contact. Simply ask LA to have telemedicine added to your incident, and they will send it to the telemedicine MDC. The NP will review the call and open a telemedicine call to your tablet, usually within 60 seconds. Once you answer, a Zoom call is opened. When the NP is on another call, then the telemedicine call goes to the Medical Director on duty (Drs. Kazan, Kashani, or Gupta). Understand, the NPs and Medical Directors are NOT bound by Reference 845 and therefore can prescribe medications and even contact the patient's primary care doctor to arrange a follow up appointment if needed. The telemedicine team is devoted to help keep minor patients in their homes and to help refer appropriate mental health patients to psychiatric urgent care centers. There is no question that telemedicine will play a huge role in the future of EMS, so give it a chance so we can continue to refine it here.

In closing, we are doing an OUTSTANDING job given the circumstances we are dealing with. We are not perfect and no one expects us to be. This is just a little reminder to document what you do, what you see, and what you hear to protect yourself, your crew, and your Department. Keep up the good work.
1014 Blood Drive

Finally, we would like to remind you that we are hosting another blood drive! The Red Cross is experiencing a severe shortage of blood due to the COVID-19 pandemic which has not only limited donors but also available sites for blood drives.


This drive will be open to the public but by appointment only. No walk-in accepted. We also require donors to fill out an online form in advance, wear a face covering or mask for your appointment, and adhere to our social distancing requirements.
As always, stay safe and take care of each other.

In Solidarity,

President Dave Gillotte and the Local 1014 Executive Board
Download:

The Art of Documentation.pdf
Los Angeles County Firefighters IAFF Local 1014

Representing over 3200 Firefighters, Paramedics, Dispatchers,
Pilots, Wildland Firefighters, Fire Prevention, Forestry
and Health Haz Mat Personnel


Click here to watch the Virtual Swearing-In.

Brothers & Sisters,

Today we installed our Executive Board Officers. They will now begin their term of service to the membership.

We look forward to the hard work ahead of us. This week will be orientating, briefing and training for our newest members of Local 1014's Executive Board. Please reach out to the Board with labor issues or member representation needs. It is truly an honor to represent you all and fight on behalf of you and your families.

On behalf of your 2021 Local 1014 TEAM of TEN Executive Board we wish you a Happy New Year. Be safe, be kind, to each other, be a family. COUNTY Strong! Local 1014 Strong!

In Solidarity and Strength,

President Dave Gillotte and the Local 1014 Executive Board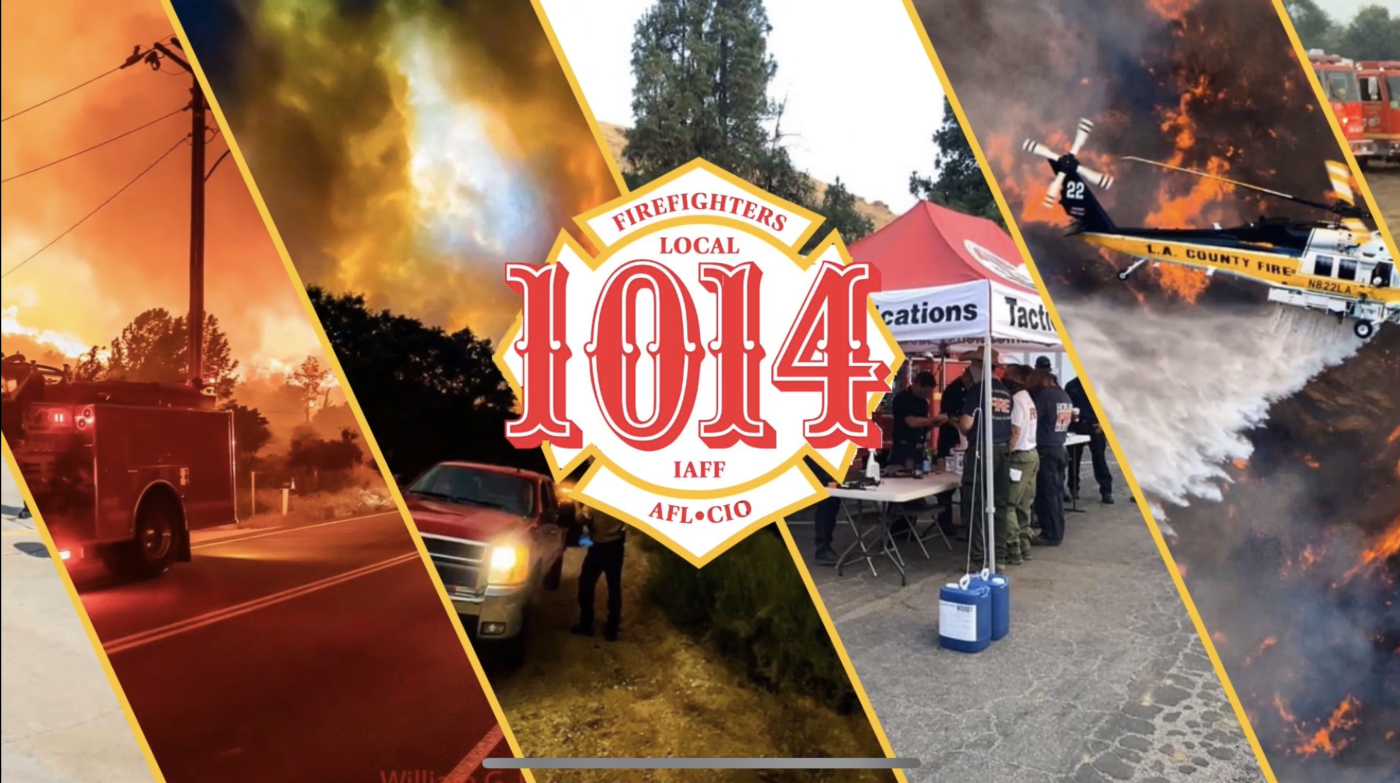 Los Angeles County Firefighters IAFF Local 1014

Representing over 3200 Firefighters, Paramedics, Dispatchers,
Pilots, Wildland Firefighters, Fire Prevention, Forestry
and Health Haz Mat Personnel



2020: Year in Review

Click here to view the video.

Brothers & Sisters,

We have had an extraordinarily painful and challenging year due to the COVID-19 pandemic and its impact on our economy and our way of life.

While this has been a difficult year, it has also been a year that showed the strength of our membership, our union, and our solidarity. Despite overwhelming challenges, we have been able to accomplish so much for our members because we have stood in solidarity and unity with each other to protect our members and their families as they battle on the frontline of a global pandemic. The power of solidarity, political action, and legislative advocacy has never been more apparent than during these trying times.

As we close out the year, we would like to pause to recognize all we have overcome and all we have accomplished this year:

FIGHTING ON THE FRONTLINES OF COVID-19



As early as February, our members began seeing the devastating impact of the COVID-19 pandemic in our communities. Local 1014 immediately jumped into action together with the Department and our excellent EMS and Health Services staff to develop protocols to protect our members.

Local 1014 also ensured that our affected members had protocols in place for quarantining, testing, and time off. We helped ensure safe station protocols and secured PPE through our political action efforts. As we continued to face the unprecedented pandemic, we also were dealing with a severe staffing shortage. Together with our Management and Training Staff partners, we ensured that our Drill Towers continued in a COVID-compliant manner while ensuring that we trained recruits hard and prepared them for the tough job ahead.

Now as we close the year, we are thankful to our EMS and Health Services Staff for their hard work ensuring our members get vaccinated. In a record-breaking 3 days, our small EMS staff has vaccinated over 2,600 members. We are blessed to have the finest team in the nation taking care of our members.

WILDFIRES – MUTUAL AID

With record high temperatures in 2020, Local 1014 members were also asked to fight massive wildfire across the state and in our own jurisdiction with Lake 1, Lake 2, Ranch 1, Ranch 2, CZU August Lightning Complex, LNU Lightning Complex, North Complex, Cold Springs, SCU Lightning, and the Red Salmon Complex incidents all occurring simultaneously. Our members assisted our brothers and sisters statewide while continuing to deliver world-class service to our residents at home.


601/602 CONTRACT EXTENSION, PLAN C RETIREMENT, AND HEALTHCARE

Our contract expires tonight at midnight. We have successfully negotiated a contract extension for 30 days to continue the discussion on a few critical issues affecting Plan C members. You may have heard the Sheriffs and Lifeguards have accepted a one-year extension for 2021. Given the economic outlook and post-COVID predictions on sales tax and property tax revenue, it is a good decision for those members who have more impact from the general fund to secure the protections of an MOU. We also have those same protections, and the County offered us the same one-year extension. However, while we understand the environment, we want to have frank and grounded discussions with the new CEO on important items affecting Plan C members. We are making this our number one priority to negotiate longevity in rank or some equivalent for parity post-PEPRA ruling on Ventura.

We have also crafted a retiree medical trust similar to LACERA Board and Trust to allow both member and County contributions in a no-tax manner for earnings and disbursements for spousal and family medical contributions and expenses in retirement. We worked very hard with the Coalition of County Unions (CCU) to protect the level of benefits and defined benefit system, but there is a huge funding problem on retiree medical, and this is one area where impact to earnings and County General Fund can hurt the Fire District in retiree health costs. More on this in the next few weeks as we continue discussions.


48/96 TRIAL SHIFT SCHEDULE CHANGE

This year our members voted for a one-year trial. While COVID has delayed this item, as it has all things, this issue is alive and in discussions with Chief Osby as we try to earn his support. The talks have been detailed and specific with regard to operations issues, funding, staffing shortage, and more. We can assure you the vote stands, and no amount of retiree or active discourse changes that fact. We will continue to address this openly and strongly. The Fire Chief is analyzing and evaluating all in good faith to give us an answer on support. We have partners in this as well, including the CEO and Board of Supervisors.

Stay tuned. We understand this was and is a slightly divisive issue, but once and for all we are handling it. Don't believe the social media banter. We don't play games with votes. We are confident that we will get support from the Department, and we are courting that, but we as a Labor Union are not asking for permission either. We are partners, Labor and Management, and this is one of those items where a partnership serves the item well. We will keep you updated as we continue to move forward on these issues.

PEER SUPPORT


This year, perhaps more than most, we are grateful for the Peer Support Program we have built. In October, LACOFD officially accepted the donation of two fully trained peer support dogs from the nation's leading dog training foundations.

Dogs "Milo" and "Echo" were specially selected and completed hundreds of hours of intense specialized training to support firefighters with PTSI or high levels of anxiety in a variety of situations and settings. As our firefighters continue to face an unprecedented wildfire season and ever-increasing call loads with the ongoing COVID-19 pandemic, our firefighters' mental and physical health has never been more critical.

603-604 CONTRACT RATIFICATION

At the beginning of the year, we secured an excellent successor contract for our brothers and sisters in bargaining units 603/604 serving in Dispatch, Health HazMat, Forestry, and Fire Prevention who serve vital roles in our fire-based EMS and multi-mission work. The contract was ratified with 99.2% approval.

POLITICAL ACTION & LEGISLATION

As we have said many times, political action is the most powerful tool we have to ensure that our members have the benefits, wages, and working conditions they need to remain safe and healthy as we serve the public.

This year, your Executive Board weighed in on every bill through our robust advocacy efforts to ensure that every State Senator, Assemblymember, and Governor embraced these bills and their passage into law. Thank you to the California Professional Firefighters (CPF) Legislative Team and all our brother and sister affiliates for the hard work. COVID-19 made things even more difficult to navigate with communication and meetings being done virtually, but we got it done. See list below of firefighter-sponsored legislation that has been signed into law this year below.

SB 1159 (Hill) – Workers' compensation: COVID-19: critical workers

(Status: Signed by Governor)

AB 1867 – Small employer family leave mediation: supplemental paid sick leave

(Status: Signed by Governor)

AB 685 (Reyes) – COVID-19: Imminent hazard to employees: exposure: notification: serious violations

(Status: Signed by Governor)

AB 1544 (Gipson) – Community Paramedicine or Triage to Alternate Destination Act

(Status: Signed by Governor)

SB 1044 (Allen) – Firefighting equipment and foam: PFAS chemicals

(Status: Signed by Governor)

AB 2967 (O'Donnell) – Public Employee's Retirement System: contracting agencies: exclusion from membership

(Status: Signed by Governor)

AB 2068 (Petrie-Norris) – Voluntary tax contributions: California Firefighters Memorial Fund: California Police Officer Memorial Foundation Fund

(Status: Signed by Governor)

To learn more about these bills and Local 1014's role in advocating for these critical pieces of legislation, click here.

GIVING BACK TO OUR COMMUNITIES


In addition to providing emergency fire and EMS services, our members also helped our communities struggling with the pandemic.

Local 1014 was also proud to host our first-ever blood drive benefitting The American Red Cross. The Red Cross is experiencing a severe shortage of blood due to the COVID-19 pandemic which has not only limited donors but also available sites for blood drives. We are looking to host more drives in the future to help fill the critical need for blood in our communities.

Additionally, Local 1014 joined Supervisor Hilda Solis, the City of El Monte, and the Los Angeles Regional Food Bank to help distribute food to over 3,500 families in El Monte. As public servants, our job goes well beyond providing EMS and Fire services for our communities, we are also leaders who are called upon to help in times of crisis. The COVID-19 pandemic left many of our communities in dire economic circumstances. Our members stepped up to help our communities in need.

This has truly been an extraordinary year. As we close out this year, we look with hope and optimism toward 2021 and a better year. On behalf of the Local 1014 Executive Board and the Local 1014 Staff, we wish you and your families a Safe, Healthy, and Happy New Year.

In Solidarity and Strength,

President Dave Gillotte and the Local 1014 Executive Board
Article Archives:
Next of 738 articles