Article Archives: Prev
Next of 780 articles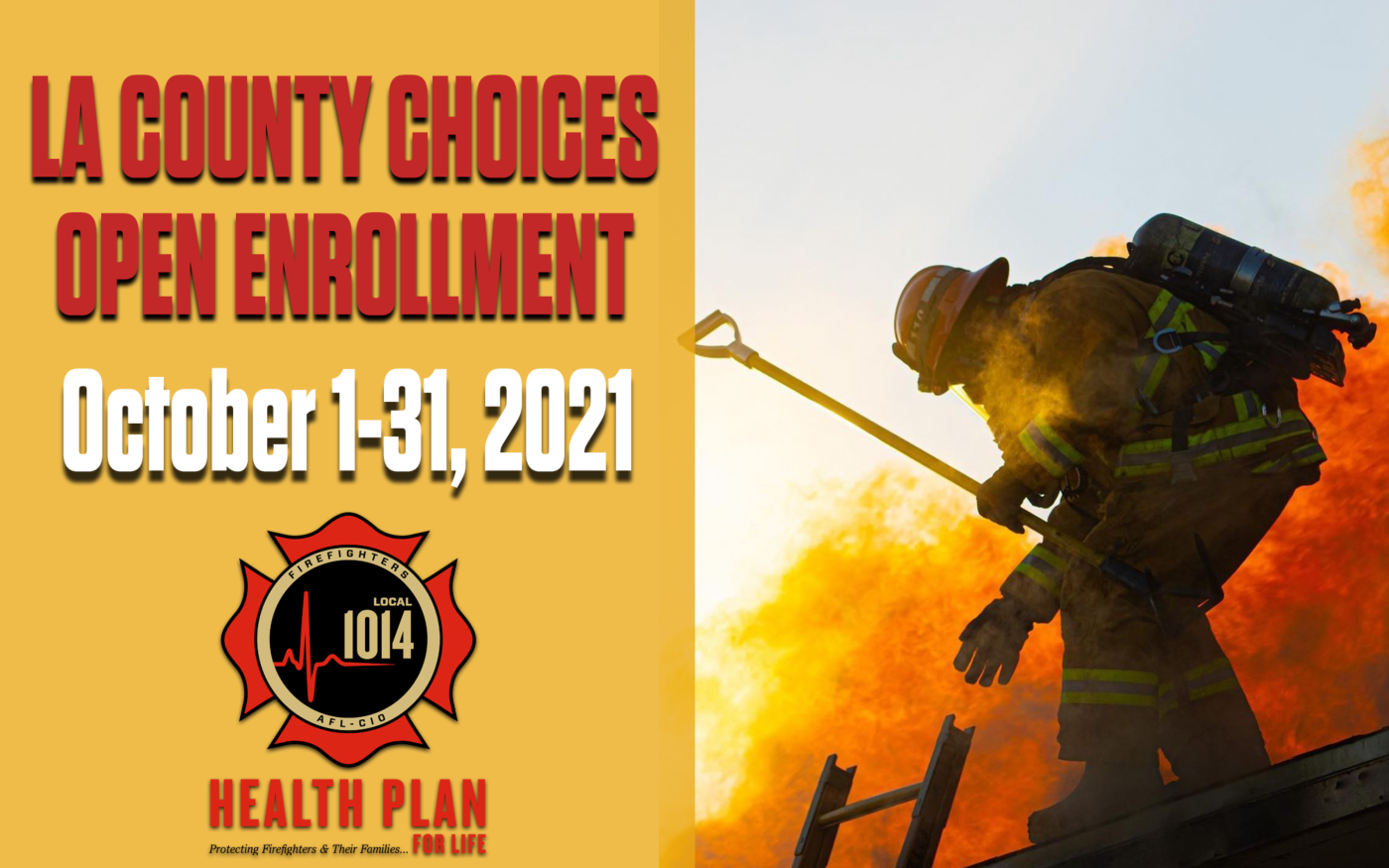 Sisters and Brothers,

As you read yesterday and will see today as the County continues to roll forward with the mandated plan as proposed by the County with their forms and policy updates. We ask you to refrain from registering with Fulgent and the County and wait for the Union and the CCU to give direction based on our ongoing bargaining over the impacts of such a plan. We have filed an impasse motion at the bargaining table over the County's failure to complete bargaining before implementation of the policies. This will engage a third-party mediator.

We want to be clear, regardless of your stance on the vaccine, this is an issue of fair bargaining. We need to have solidarity for the sake of our future bargaining process. We cannot set the precedent that it is okay to circumvent our rights.

Once again if ordered to comply with the policy, kindly follow these instructions.

If your supervisor asks you to register or fill out any form, respectfully ask that they issue the request to you in writing. If you are pushed to fill out the form, respectfully ask to contact your Union representative. Use the following phrase if pushed: "My Union is currently bargaining accommodations for this item. If this discussion could in any way lead to my being disciplined or terminated, or affect my personal working conditions, I respectfully request that my union representative be present.".

You will notice that the medical and religious exemptions are in place in the policy. While we have additional issues we are bargaining over, we have made great progress on the implementation of those exemptions. Each and every word in policy matters, and the procedures of non-compliance matter. We will continue to bargain. We have two issues that remain in the CCU Counter-Proposal relating to antibody and natural immunity once the CDC and FDA get on board and also alternatives to vaccination using safety gear and testing that have not been embraced. These items are complex and detailed but we continue to push these items on behalf of our members.

It is important to know also that these proposals and efforts from the Board of Supervisors (BOS) are driven by the public input to their offices. The residents we serve want a safe workforce entering their homes, and we want a safe work environment for our members. The COVID vaccine is one of the most valuable tools to ensure both our members' safety and the safety of the communities we serve. We recommend our members get vaccinated and utilize all safety gear when operating in the field. We worked very hard to get priority when the vaccines first came out, and we will always put our members at the front of the line when it comes to acquiring the gear and tools to stay safe when it comes to communicable diseases. If you have medical and/or religious or moral objections, the legal exemptions are in place and you will have Local 1014 representation to navigate that process once adherence to any compliance is in place.

We have had many members and their families raise issues with us asking about our support for the vaccine and our acknowledgment of the impact it has had on our members and our families. We are aware and remind all that we have had over 55 IAFF Firefighters die of COVID and over 400 Police and Sheriff Officers have died of COVID nationally in the last year and a half. We also understand that many of our members have lost family to the disease. We have a significant number of our members off with long COVID issues and some that will battle to get back to work. This is a serious disease and the impact on our members and communities is of primary concern to the Union. While we oppose the mandate, we believe providing alternatives to the mandate will net more vaccinated members and safer working conditions. Such alternatives include incentives, the use of anti-body and natural immunity for those who have had COVID, as well as testing alternatives. We are pushing hard with our Labor partners to embrace these areas as well as other medical best practices as medical advances continue to evolve.

Finally, as we navigate this volatile issue we once again ask our members to be kind to each other, to empathize and understand all views and opinions on this issue as we work to get to the finish line together. There are no enemies between us, and different perspectives and thoughts on the issue are rich and can be positive if we stay bound by facts and realities of law and best practices for the health and safety of our members and our communities.

Local 1014 and the CCU back at the Bargaining Table

While the COVID vaccine mandate has certainly taken the headlines the past couple of months, we have many other important items of business in progress on behalf of our members. As always, there is perhaps no greater item than our contracts.

We are moving to form Fringe Benefit proposals through the Coalition of County Unions (CCU). We just finished and signed a 9-month contract that had a 2.5% increase in medical premium contribution, COVID bonus, and a new holiday. To prepare and begin bargaining for this short term, our proposals will be crafted and sent to the County by December of 2021.

In addition, we have sent to the County our letter to officially open the contract table for Salary MOU's for 601 and 602 our Firefighter series. This will begin the bargaining season for all units for 2022. We have been preparing our proposal and once again at the top of the list and priority for any work is any and all movement to achieve Plan C enhancements to counter the PEPRA retirement reform impacts. We are excited to get to work and grind to get a fair contract for our members and once again continue to progress in salary and benefits. We will update the membership as we formalize the table and the meetings with the County.

Fire Season

Our members continue to work hard to protect our communities as brush fire season is in full swing and major incidents like the Avalon Incident and the El Sereno Incident occur throughout LA County. As always, we thank our members for their continued professionalism and dedication as your put yourselves in harm's way to protect our communities.

OPEN ENROLLMENT IS HERE!

The LA County Open Enrollment period for 2022 begins today! Local 1014 would like to remind you to review your benefits and encourage you to look at The Local 1014 Health Plan as an option for your family. The Local 1014 Health Plan is among the most comprehensive plans available to Firefighters anywhere in the nation and is tailored to meet our Firefighters' needs. It is also the #1 choice for our members and their families. Higher allowances, increased coverage, new fertility benefits, and greater options are just a few of the highlights of The Local 1014 Health Plan in 2022.
The Local 1014 Health Plan is the only health plan offered in the County that you can take with you into retirement and maintain FOR LIFE. It has never been more important for our members to review your healthcare options and ensure that you have the best coverage available for you and your family.
Enroll now at www.mylacountybenefits.com. For more information about The Local 1014 Health Plan, please call member services at 800-660-1014 or email medicalplan@local1014.org.
In Solidarity,

President Dave Gillotte and the Local 1014 Executive Board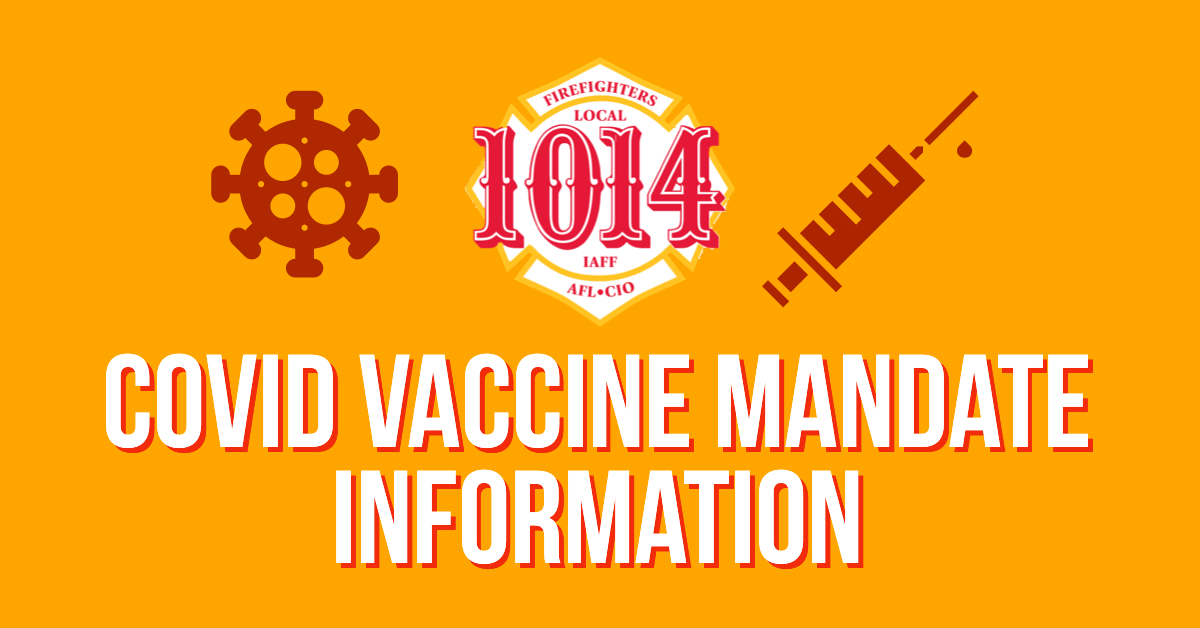 Sisters and Brothers,

Today we continue bargaining over the impacts of the COVID vaccine mandate with the County of Los Angeles which affects all LA County employees including our alliance of Coalition of County Unions (CCU) members. We have consistently taken the position of supporting vaccination while opposing any mandate as proposed by the County. At this point, the CCU has put forward counter-proposals that include labor/management education programs, alternatives to mandate with use of proper safety gear, distancing, washing, and testing in addition to the medical and religious exemptions as required by law. The table has been intense, to say the least, as we bargain over every line of this issue.

As we have said before, we do not at this time recommend filling out any forms issued by the County regarding vaccination status. We are not done bargaining over the process and the forms and the systems in operation. The County sent out forms in advance of the final table work. The Local 1014 bargaining team consists of President Gillotte, Vice Presidents Currier and Kobler, and Directors Reade and Carcioppolo. You can reach out directly to any of them or the Executive Board for updates on the bargaining table.

We do not feel the bargaining process will be completed by October 1 and the County has also recognized that date may not be realistic. We will be working to extend that date as one of the primary items at the table due to the complexities of the proposal and the potential difficulties in staffing should such a policy go into place. We have allied with SEIU and the Labor Fed to bring the weight of our collective workforces to leverage a non-mandated policy. We will report out as bargaining continues.

We ask that you be patient and let the process finish at this level before moving to any individual legal means.

General Membership Meeting Update

On September 14, approximately 180 members of Local 1014 came to the Union Hall to discuss the Covid Mandate proposal. We had a detailed discussion and update on constitutional law and impact bargaining law as it pertains to LA County. Attorneys from Local 1014 and other Fire Labor Unions in LA County were present to educate and take questions from members. The firm retained by Local 1014 Adams, Ferrone, and Ferrone are among the best in the business representing Fire, Police, and Sheriff Union members in workers compensation, labor law litigation, and constitutional law. They have extensive case experience up to and including arguing in the United States Supreme Court. Through legal counsel, we along with other Unions are tracking all court cases challenging the constitutionality of mandate authority, specifically, the LAPD and LAFD cases filed. The rulings on these cases should be any day now. We believe that they will align with all court cases to date affirming the authority to mandate, but protecting the right to impacts bargaining which we are already engaged in.

Additionally, two motions were put forward at the General Membership meeting. One motion titled "A Resolution of the Los Angeles County Fire Fighters Association No. 1014 opposing mandatory vaccination, discrimination, segregation, invasive testing: and retaining expert legal counsel." And a second motion titled "A Resolution of the Los Angeles County Fire Fighters Association No. 1014 to provide members with remote electronic access to view, participate and vote in all membership meetings." Both motions were referred to the Executive Board for action and recommendation to the General Members.

At the Executive Board meeting this Tuesday a motion was made by Director Cash, and seconded by Director Carcioppolo to "Refer Motion No. 1, A Resolution of the Los Angeles County Fire Fighters Association No. 1014 opposing mandatory vaccination, discrimination, segregation, invasive testing and retaining expert legal counsel to the next General Membership meeting following the conclusion of Impacts Bargaining over the Covid Mandate Proposal". This motion was passed unanimously and is supported by our legal counsel's recommendation and is in compliance with the Constitution and By-Laws of the Local and the IAFF.

The second motion regarding electronic meetings was supported in principle and intent. This has been a subject with the Local for many months including Local 1014's purchase of the Zoom platform needed to host such meetings. There are multiple legal issues with voting and the IAFF is also evaluating ways to secure secret voting mechanisms for any meeting where matters may be considered for vote or action. The Executive Board discussed the matter at length and collectively agreed to appoint a committee to review the motion, the IAFF, and legal issues. This committee will also review technological platforms and report back with a recommendation on this motion for likely support after being amended. This committee will be selected by the Executive Board Members, appointed by the President, and begin work immediately with the goal of a recommendation to be taken up at the next General Membership Meeting. We are excited about the electronic platform and have been looking to launch this feature even prior to this motion. The next General Membership Meeting is scheduled for Tuesday, October 12, 2021 at 10 am at the Alfred K. Whitehead Labor Center - 1014 Union Hall in El Monte.

Petition for a Special General Membership Meeting

A petition with signatures to request a Special General Membership Meeting arrived at the Union Hall office and was delivered to the office staff. We will begin reviewing and verifying the signatures on the forms. We are asking that the two members who dropped off the signatures please contact recording secretary 2nd Vice President Kurt Kobler to identify yourself so we have a point of contact on the item. Once the signatures are verified, we will report back on the disposition of the request.

Union Steward Program to be Resurrected

In keeping with alternative communications to keep members informed and engaged on the issues affecting your wages, hours, and working conditions, the Local 1014 Executive Board has unanimously embraced the launch of the Local 1014 Union Steward Program. Look for an announcement next Friday on interest, selection process, job duties, and more. Political Action, Legislative Advocacy, Member Representation are all tenants of the Local and good stewards in each battalion and specialty units will be an effective and powerful tool to help that work.

If you are interested in being a part of the Local 1014 team, stay tuned and look for the start of our recruitment and proudly entering back into the steward world with next week's Friday Message. Special thanks to committee chair Tony Carcioppolo and the Vice Presidents and Directors who put in countless hours to get this moving. We look forward to the work ahead and the partnership with our general members who have an interest in the future of our Department and all that affects our profession.

While the COVID vaccine mandate has certainly consumed our Union business the last two months, we also have other ongoing business that is critical. We settled a 9-month fringe benefits contract with an additional holiday, COVID bonus money, and increased medical contributions (2.5%). We are busy getting the forms and procedures to get our bonuses and also working to set our next session for 9 months into 2022. The work begins now to stay ahead of the curve on the funding next year. We also are in preliminary communications with the County to set the path for salary negotiations to officially begin following a one-year extension of our MOU along with all other County Unions. We will also be preparing for bargaining units 603/604 as well as their contracts set to expire. We need a minimum of 3 Board of Supervisor votes for any contract.

As always, stay safe and take care of each other.

In Solidarity,

President Dave Gillotte and the Local 1014 Executive Board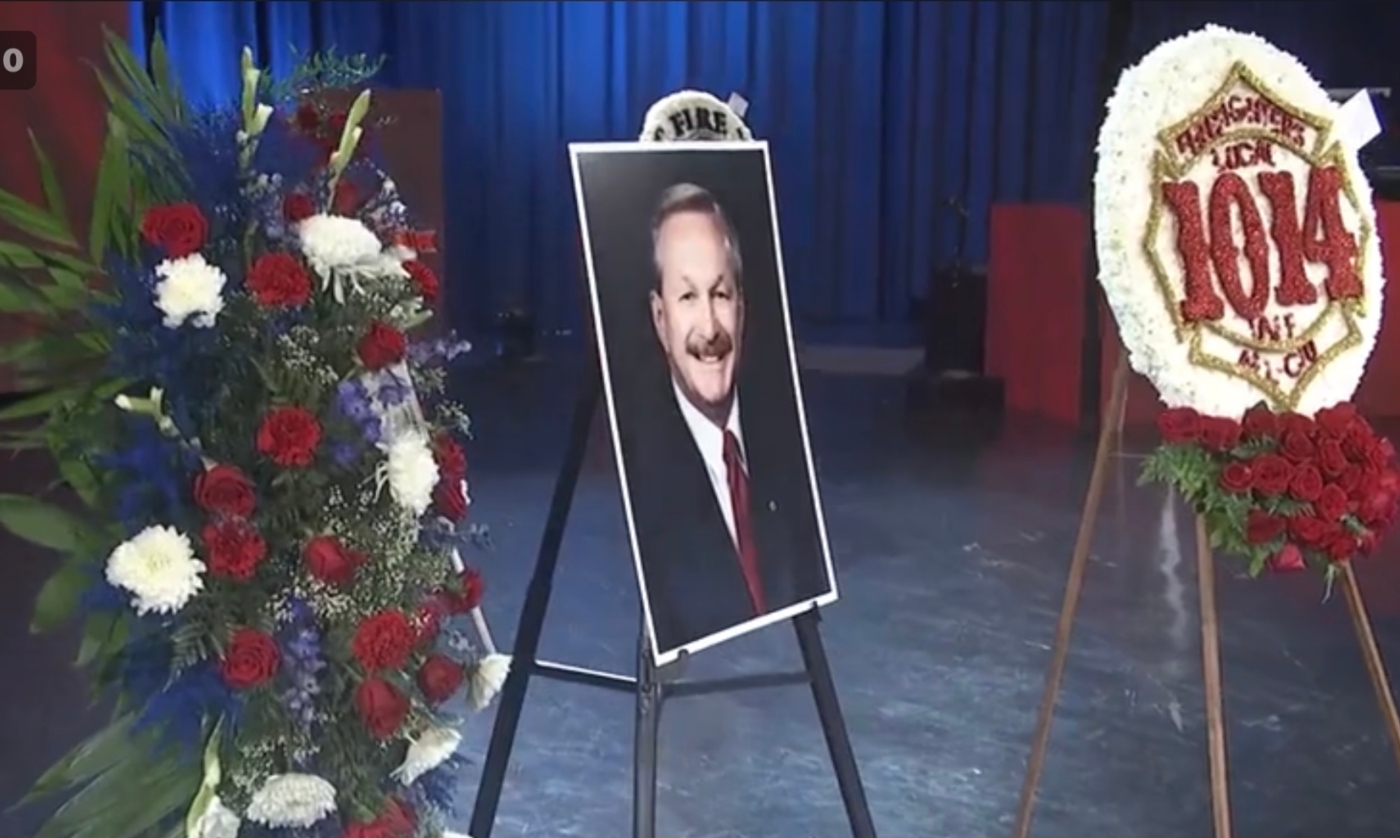 Sisters and Brothers,

Today we will laid to rest one of our Union legends. Alfred Whitehead was responsible for so many protections and benefits that we enjoy today. Protections like Right to Know, 2 In 2 Out, Line of Duty Death Investigations, Cancer Presumption, and even Overtime Pay are all the result of Brother Whitehead's many years of dedication to our fire service, our members and their families.

Brother Whitehead joined Los Angeles County Firefighters Local 1014 in the mid-1950s and rose through the ranks to become Local 1014 president in 1970. In that position, Brother Whitehead proved instrumental in rescuing CPF — then known as Federated Fire Fighters of California — from bankruptcy and helping to chart the path that would make CPF a powerful and influential voice in the fire service.

In 1982, Brother Whitehead was elected IAFF General Secretary and, six years later, became the first Californian to be elected IAFF General President. During his tenure in the union's highest office, Whitehead made political action a top priority, working hard to establish allies at the local, state and federal levels. When he retired in 2000, IAFF honored his advocacy for the membership by rechristening its annual legislative conference as the Alfred K. Whitehead Legislative Conference.

President Gillotte, IAFF General President Ed Kelly, and CPF President Brian Rice spoke to bring Union and personal stories of Al's loyalty to our membership and our members' families including his own. Friends and legends of CPF Dan Terry and Brian Hatch also brought personal stories of life, union and family to help us all remember Al as a Firefighter, a Union Leader, and a wonderfully compassionate human.

Brother Whitehead's fire service legacy continued through the generations: his son, Kenneth is a retired L.A. County Fire Captain and his grandson Daniel Wagner is an active L.A. County firefighter-specialist stationed at Fire Station 82.

Thank you to all the LA County and Orange County Firefighters who joined us today at the ceremony to honor this incredible man for his contribution to our profession and the union movement. Special thank you to LACOFD Chief Daryl Osby, OC Chief Brian Fennessy, the LACOFD Memorial Management Team, the LACOFD Pipes and Drums, the LACOFD Honor Guard, the Chaplains, and everyone who worked to make this day special for the Whitehead family.
This past Tuesday, we had an excellent and well-attended General Membership Meeting addressing the vaccine mandate in a productive and open forum. Thank you to the nearly 300 members who showed up to support our work and provide feedback from the field. In response to the motions that were introduced this past Tuesday, we will be postponing the webinar so we can address the issues brought up at the meeting as well as any new developments in that forum. Stay tuned for the new date and time next week.

One thing that Brother Whitehead knew better than anyone was that we needed solidarity in order to get movement for our members. Today as we are facing an unprecedented issue as we continue to serve on the frontlines of a global pandemic.

The vaccine mandate is a national issue. We have the opportunity to be leaders in this issue. While some of our neighboring unions have been divided by this issue, we are going to show the path to strength through unity. Whether you are vaccinated or not, we need to stand together to ensure that we do not lose any of the protections and rights we have fought so hard for since the days of Brother Whitehead.

The divide that runs not just in LA County and in our state, but throughout the nation and Canada, is harmful to our solidarity and our power and strength as one. Take time to understand each other and embrace different points of view, feelings, and emotions as well as the legal issues that define where we are working to land a fair policy. Stand together, not apart, and be kind to each other as we navigate this incredibly difficult time.

We are committed to moving forward with our opposition to this mandate in a manner that will not only accommodate our members' freedom of medical choice but set the precedent for the nation balancing safety for the public with individual choice for our members and their families. We know that we can do this, but we cannot do it alone. We need our members to support the work of the Union now more than ever. We will get through this if we remember our history and the legacy of people like Brother Whitehead. Even if we don't always agree with each other, we must stand in solidarity in order to continue to preserve our wages, benefits, and working conditions for future generations.
In Solidarity,

President Dave Gillotte and the Local 1014 Executive Board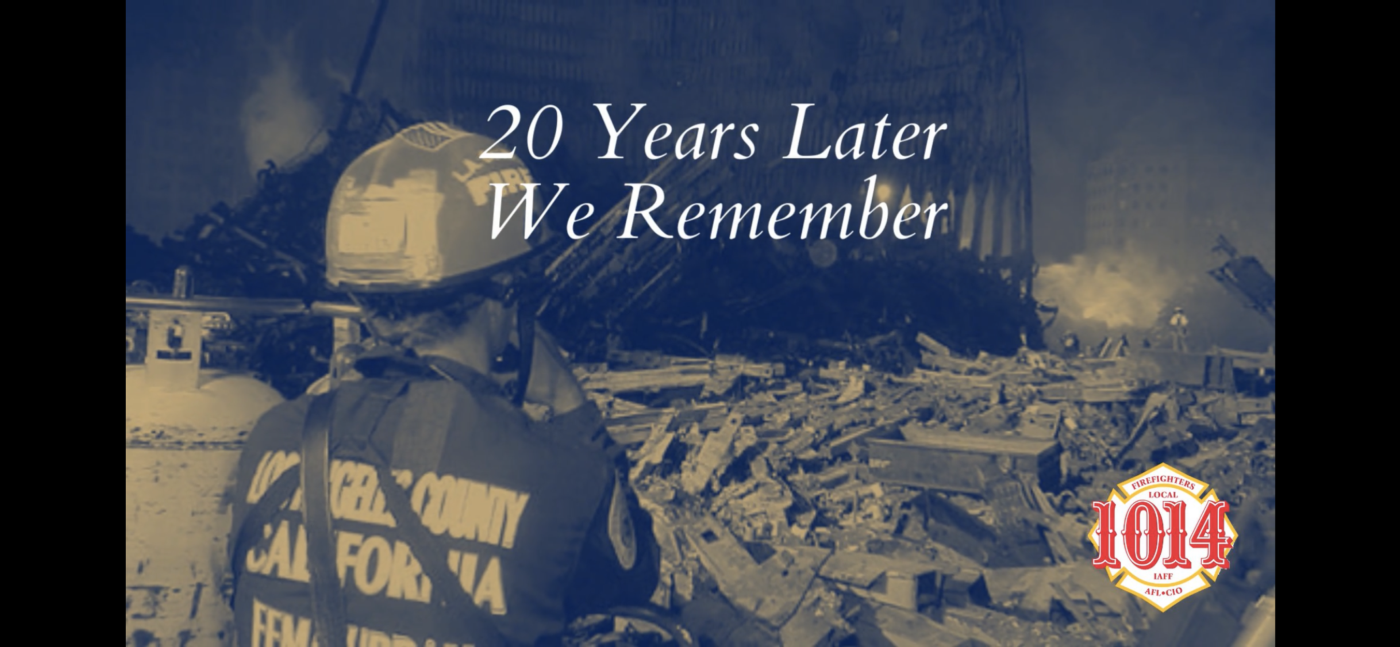 Sisters and Brothers,

This will be a heavier weekend than most as the nation and all firefighters including the families of the 343 fallen FDNY members take time to reflect and remember 20 years ago when two towers fell in New York City taking our hearts with them. We Shall Never Forget.

Each of us remembers where we were and what we were doing and tomorrow the impact of the day will pass over us again. The IAFF hosted a wreath ceremony today at 4 pm EST. Click below to watch the ceremony.


Also Fire Velo including members of LA County Firefighters has arrived in New York at the memorial site. Firefighters from throughout California rode from Santa Monica Pier to New York to raise money and awareness of the 20 year anniversary. Thank you to all who supported and congratulations to Fire Velo for their amazing effort and accomplishment in tribute to the fallen.


Covid Vaccine Policy Proposal and Ongoing Negotiations

Local 1014 will be at the bargaining table again today late into the evening with the County of Los Angeles and the CCU. We have been bargaining two to three days per week 6-8 hours per day on the "IMPACT" of any such proposal from the County of LA. We are working hard along with our public safety members in partnership within the CCU to move this proposal to a "vaccinate or accommodate" policy and steadfastly have opposed any mandate.

Additionally, Local 1014 along with our Sheriff Union partners introduced the concept of using antibody levels in part or whole as the equivalent to vaccinated status. We are bargaining over every line of the proposals that emanated from the BOS Executive Order and Motion. This is not only tedious but volatile. We are also working to eliminate a disciplinary track for anyone who is non-compliant and instead have an accommodation and or testing process as well as alternative work schedules and environments for non-safety units who are impacted by this order. The County knows it cannot meet an October 1 deadline. We will notify you of any changes in the proposal formally as we get agreement on items impacting dates, times, and policy.

Once again, Local 1014 has taken a strong position embracing the vaccine and encouraging our members to get the vaccine (75% of our membership is vaccinated currently), while OPPOSING THE VACCINE MANDATE. We have asked for the use of antibody testing, full safety gear including masks, gowns, goggles, gloves, physical distancing, and cleaning as ways to accommodate those who are not vaccinated. We will continue to work on those positions in alliance with our partners in the house of Labor.


General Membership Meeting 9/14/2021

We look forward to seeing everyone at the General Membership Meeting at the Alfred K. Whitehead Labor Center, the Union Hall - 3460 Fletcher Avenue in El Monte at 10 am on Tuesday 9/14/2021. The Union meeting is for Active Duty Local 1014 members only. We have many issues to discuss including bargaining, the fringe contract we just settled, staffing and operations, as well as the Covid vaccine issue. We will have legal experts and medical experts at the Union Hall on Tuesday with good information and answers to specific legal and medical questions as we navigate this item with the County.

As a reminder, we have staff in the building so please bring your mask as this is an indoor forum. We know many of you may not be able to attend because of staffing or personal obligations, so we will also be hosting a Covid Vaccine Webinar the following Tuesday, September 21st with questions and answers as well as legal and medical expert. Mark your calendars and get your questions ready in advance and as we roll in the webinar.

Thank you for your continued resolve and solidarity as we handle this issue and bargain with the County over the impact on our members.


Local 1014 members continue to serve on the frontlines

Local 1014 members are currently serving on the Caldor Fire and the Dixie Fire with Strike Teams 1135A, 1279F, 1282A, 1321A, 1840A, OES 1870C, 1880C, 1103A, and 1120A. Los Angeles County Fire Fighters Local 1014 has provided the most resources in the state relative to the workforce and proudly our members are getting it done.

While there are many stories of our members handling the work, but also going above and beyond, Strike Team 1120 A has a special story we would like to share with you all. ST 1120 A received an assignment to protect structures in a neighborhood. As they prepped they came across a home to Aaliyah, a 9-year-old girl who was diagnosed with ovarian cancer 3 months ago. Because of her compromised immune system from her chemotherapy treatments, she had no place to go nor could she. The mission then became not only to protect her home and her family from fire, but also to support her family for 4 shifts and then some. The crews of 1120A talked to the family every day to assure them they were safe and LA County Fire Fighters would be there to protect them and provide for them. The crews split wood for them provided resources and cared for the family in any way needed. She finally was able to leave on the 9th to go receive her third chemotherapy.

We learned her insurance isn't covering the treatment and procedures and her family will owe over $350,000 when this is over. Her birthday is the 22nd of this month. Engine 9 Crew from 1120 A bought her a Karaoke machine she wanted for her birthday and with a smile on her face, ST 1120 A donated $250 so far with more to come. There is a GoFundMe set up on her behalf with a 50,000 goal and only 13,000 met so far.

Please join Engine 9, ST 1120 A and the LA County Local 1014 Fire Family in helping Aaliyah and her family in considering a donation to her go fund me. Thank you to our brothers and sisters always and in this example of leadership and compassion is all we do!

In Solidarity,

President Dave Gillotte and the Local 1014 Executive Board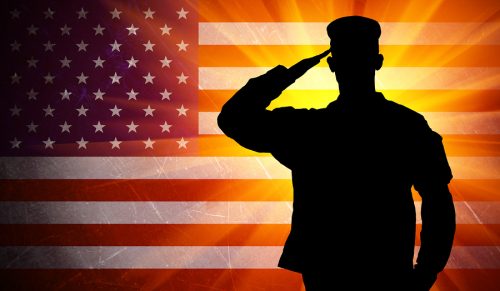 Sisters and Brothers,

Local 1014 has been at the bargaining table with the County to get a Fringe Benefits contract negotiated and a fair deal in place.

For months, Local 1014 along with our Coalition of County Unions (CCU) partners have been working to get a 9-month short-term deal based on financial projections with COVID impact offset to secure increased medical, dental, and vision premium to ensure no out-of-pocket costs on premiums for our members. We also worked to capture an additional holiday commemorating Juneteenth which was put into place nationally and captured in California and now LA County. We also got a COVID response bonus for those who have worked on the front lines. Our members will qualify for a $1500 bonus schedule along with the increases in premium and the additional holiday.
We want to thank all of our CCU partners, especially public safety, who held the line to help our seasonal, recurrent, and intern CCU members qualify for all we secured. Solidarity and strength in bargaining. We will be back at the fringe table in 9 months as more financial data and funding details are available through tax collection both property and sales tax.


COVID VACCINE MANDATE BARGAINING

Our members have been on the front lines of COVID-19 for the last 18 plus months braving the unknown. Adding to that the vaccine mandate which came down without labor collaboration or discussion and was disrespectful to our service throughout the pandemic. We are fighting this at the bargaining table where we have the legal means to negotiate solutions that fit everyone's needs. The safety of our members is paramount. We have been supportive of the vaccine and safety gear from day one. Our membership is over 75% vaccinated and we have been lucky to avoid any deaths due to COVID but we have and continue to have members who are severely impacted by COVID. The disease is real and has taken its toll on our membership as well as on the nation's firefighters, both young and old, with two deaths at LA City UFLAC 112 - LAFD.

President Gillotte has appointed a diverse group of Local 1014 Board Members including President Gillotte, VP's Lew Currier and Kurt Kobler, and Directors Chris Reade and Tony Carcioppolo to bargain at the table for this critical issue. At multiple meetings per week with our partners in the Coalition of County Unions (CCU) and public safety attorneys, we have been hammering out the details on the proposed vaccine mandate. The details of each proposal round have helped clear a path for our members to keep the public safe without mandate and or discipline.

"For the last 6 weeks we have been negotiating the negative impacts of the County vaccine mandate and the potentially devastating impact it could have on some public safety members," said VP Kurt Kobler. "Local 1014 believes in your right to choose. It has always been the position of Local 1014 and the CCU to vaccinate or accommodate. The accommodations we are negotiating for are the current workplace standards that the Department issued 16 months ago."

"Being unvaccinated myself, I am very optimistic with how the negotiations have been going," said Director Tony Carcioppolo. "We will continue to fight and protect all members!"

We would like to reiterate to all members regardless of their opinion or feelings on this matter, to be supportive of each other and stay away from divisive and harmful actions whether in person at the station or on social media. Remain calm and armed with facts, not fodder for the bloggers who simply seek to disrupt. We know we are fighting for a small percentage of our members who have not been vaccinated, and we would fight the fight even if it was one member. Remember you still work for a public safety organization, paid for by the citizens of Los Angeles. Be smart about your choices especially on social media when wearing your "LA County Fire Fighter" hat both on and off duty.

Additionally, as of now, there are no conditions for employment of medic school relative to the vaccine. The only item we are dealing with for the few medic students who are heading into clinical is negotiations with private hospitals over their own policies to require the vaccine to participate in clinical. We are working with the Department, DHS, and the hospitals to find solutions both short-term and long-term. If you do have any evidence and or facts to support any of our members or recruits being held down and "jabbed", please contact us immediately so we can address it.

Finally, we have seen some discussion about AB 455 and State Orders. Please see the FAQ below on the issues brought to our attention:
Is there statewide vaccine mandate for firefighters?

There is currently no statewide blanket vaccine mandate for firefighters. A state public health order was issued in August requiring that all healthcare workers be vaccinated by September 30th – this order does not include EMTs or paramedics. A requirement was also instituted that all California state employees, including CAL FIRE firefighters, must either show proof of vaccination or be tested for COVID at least weekly, however this requirement is not a "vaccinate or terminate" policy.

What about AB 455?

It was heavily reported in the press that Assembly Member Buffy Wicks and others were amending her AB 455, which currently does not have anything to do with vaccines, with language that imposed a requirement that all employers require their employees to be vaccinated or submit to weekly testing.

Assemblymember Wicks had been working with several of her colleagues on this proposal that would have imposed the same requirement on all CA workers, that exists today for State employees via the recent public health order – workers would need to be vaccinated or get a weekly COVID test. There were rumors that the proposal would also have imposed a proof of vaccine requirements on certain types of public venues.

President Rice directed the Legislative team to insist upon strong meet and confer protections in the bill, paid time off for any impacts of getting a vaccine (separate from the current COVID supplemental sick leave that is available until Sept 30) AND asking that the language pre-empt local action to do something more restrictive, should the language be added to the bill. As you may know – pre-empting local action runs afoul of local control and is always a hard sell in the Legislature but that was our ask.

Earlier this week, Assembly Member Wicks announced that it is not moving forward this year. See press release here: https://a15.asmdc.org/press-releases/20210830-proposed-vaccine-verification-bill-hold-until-2022.

Are there any other vaccine mandate bills on the horizon?

At this time there are no proposals that would mandate vaccines statewide or for workplaces. The deadline to amend bills is Friday, September 3rd, and the legislative session ends on Friday, September 10th.

What other vaccine or COVID bills are out there?

The situation in the legislature is extremely fluid at the moment, as there are many discussions happening on many different facets of this topic. Discussions are ongoing regarding a proposed bill from Assembly Member Evan Low, which would amend the existing bill AB 1102 to clarify the legal backing for employers to require that their employees be vaccinated. While it is unclear if that proposal will move forward, it may potentially be tied to or folded in with other proposals.

What is the status of emergency paid sick leave?

Currently, supplemental paid sick leave for COVID-19 is set to expire at the end of the month on September 30th. A coalition of labor unions is currently negotiating what a potential extension of this sick leave may look like, but time is short and the situation is changing rapidly. Business interests would like to see the COVID sick leave extension tied to vaccine mandates or clarifying measures like the Low bill described above. CPF is following these developments closely and will provide updates as they become available.


We continue to watch the Federal, State, and Local authorities on vaccine mandate, including DHS and our EMT and PM Licensure requirements. This evolves daily with our efforts in each venue to protect our members and impact our working conditions. While much attention is on our members objecting to the vaccine, we want our members who have embraced the vaccine or expressed concerns for their safety of the safety of their families members, some of whom have had family members pass, to know we hear your concerns and are in receipt of your emails and the concerns raised to stay safe at work. We are balancing all of these perspectives with member safety in mind. We know not everyone will have an impact from exposure to COVID, but we know that having even one member who has COVID affect their health and livelihood is devastating. We have members who fight to survive as we speak.
MILITARY LEAVE

Upon hearing of some of our active military reservists being told by payroll that they would have to use their personal benefit time to attend weekend drills if orders were not provided by our military members, your Local 1014 Board immediately began talks with the Department and payroll to correct this wrong. After several meetings, we have come to an agreement and to what we believe is the correct interpretation of the policy for our members to use Military leave.

The agreement is as follows:
Approval for Military Service

Reservists shall be allowed to attend any type of military duty. It does not matter if a member is on probation and is not supposed to take time off or not, you will be granted the time off and exempt from recall on drill weekends and annual training duty(ATD).

Paid Military Leave

The first 30 calendar days during the fiscal year (July 1 – June 30), are paid at full County pay. This benefit allotted to Reservists should be treated like a leave balance and coded in IPFIRS as ML. The employee shall deduct weekend drills, annual training, and deployment from the balance. For example, a 56-hour employee is scheduled for a weekend drill on Saturday, July 24th and utilizes one 24-hour shift which is equal to three 8-hour shifts on a 40-hour schedule. The employee now has a balance of nine 24-hour shifts or 27 8-hour shifts to utilize until June 30th of the next year. The clock resets every fiscal year for full County pay.
The member, their supervisor and the payroll clerk should track the hours each fiscal year to ensure the avoidance of overpayments/underpayments. If your weekend drills and ATD take more than the 15 shifts allotted on a 56 hour work week, you can either choose no pay (your medical and dental benefits, as well as service time, continue to be paid and accrue as normal, or you can use benefit time (sick, sick personal, holiday or vacation) to continue to be paid at full pay.
Our recommendation is for Reservists to submit their annual pre-planned training schedule (weekend and ATD) as soon as possible to assist your captain, station and battalion to plan for the absence and time record submissions.

Active Military Service v. Inactive Military Service

Your supervisor, Battalion Chief and Payroll will accept either verbal or written military orders if it is possible as active Military Service.

Military Leave Policy
Local 1014 and the Department's Human Resources Division plan to work, in collaboration, with the Department of Military & Veterans Affairs to update our policy to ensure all departmental personnel have access to a consistent application of Federal, State, and County regulations.

Local 1014 would like to thank all of our military members, currently deployed, reserve, and veterans for your service.
In Solidarity,

President Dave Gillotte and the Local 1014 Executive Board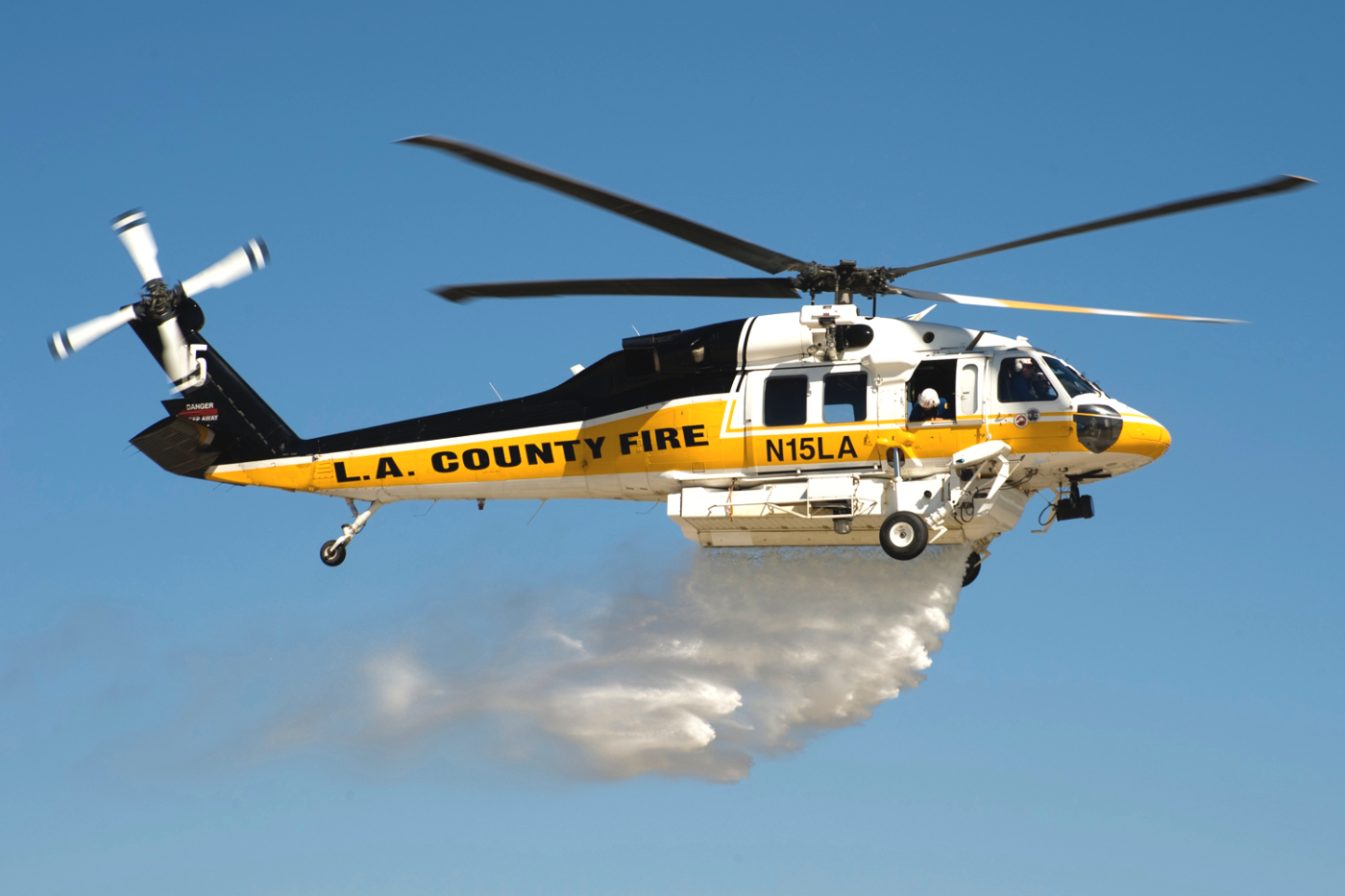 Sisters and Brothers,

We continue to fight for our members and their families as we see vaccine mandates sweep across the nation. While the Board of Supervisors' goal was to vaccinate more employees through this mandate, this was the wrong move. The County of LA vaccine mandate not only shocked most labor organizations who were not consulted but also served to divide workers and in particular the public safety workers who have been on the frontline of COVID for the last 18 months. Local 1014 and other public safety unions like ALADS and LACOLA have opposed this mandate.

Local 1014 has taken a lead role in the Coalition of County Unions (CCU) along with ALADS to ensure our interests are protected. President Gillotte made a motion to hire long-time labor attorney and FMLA, ADA and EEOC specialist Will Aitcheson of Labor Relations Information Systems (LRIS). Considered one of the best attorneys in the country for Firefighters issues, he is now the CCU legal representative at the bargaining table. We have been at the table multiple days each week hammering away at each and every line of the proposed policy.

President Gillotte has assigned both Vice Presidents Currier and Kobler along with Directors Reade and Carcioppolo to the table. Each brings a unique perspective to the table where we are legally empowered to handle this issue. We anticipate bargaining through September.

While this is deeply personal for each and every one of us, we want to remind our members to be smart. We are still public employees and we have limitations as to what you can and cannot say while at work and in uniform. As we bargain over this item, uncoordinated messaging to the elected officials and the public can have a negative impact on bargaining as we work to eliminate a vaccine mandate. We are in the heat of battle with the County. Remain calm and protect yourselves and stay vigilant and follow the rules at work during this time more than ever. Don't give anyone a reason to come after you.

We are calling on members to stand together in solidarity, no matter how you feel about the vaccine, the mandate, or any other aspect of this issue. Management would like nothing better than to divide and conquer us on this issue and many other issues. We have seen the social media and videos and letters from members throughout the state who have exclaimed their frustration and anger. While we understand the sentiment, we as a Union are stronger together than apart and the Local is committed to representing ALL members feelings and sentiments on this issue.

Finally, we urge all members to not submit to any line of questioning or electronic query until we are done bargaining over this issue and have sent out information on this matter. Just this week the CEO Fesia Davenport sent out an e-mail to us all indicating you "may" register with Fulgent, a private contractor who has been hired to house and track all information on COVID vaccine status, and "must" register if you fall under the state deadlines for certain worker classifications. Local 1014 members DO NOT fall under any of those classifications and we urge restraint and do not condone early registration as we have an entirely separate meeting on security issues and electronic data housing laws. We have made our points with the CEO and County and they acknowledge they put this out early to try and get as many people as they could to comply with the state order. Stand by on the system issues at a minimum until we finish bargaining and put out a communique on the resolve.




Please look for the updates on this issue as things are changing weekly and be sure you are registered to get our weekly email and other electronically sent information for our members only. Please reach out to any Board Member of the Local if you haven't read the updates or the letters we have sent to County, and ask questions to get real-time accurate information. This Executive Board is putting in countless hours each week on this item alone. We are also looking forward to the next General Membership Meeting on September 14th. We are working on hosting a virtual town hall for all members with our attorneys and experts. We look to have that set and up for a week or two after the General Membership meeting to provide a place for all members to plug in as we know not everyone will be able to make the meeting. Look for information and registration info for the member-only webinar coming soon.

State Budget

Local 1014 Executive Board and President Gillotte have engaged Sacramento to try and increase our funding from the State affecting Forestry and Wildland. State senator Henry Stern has taken up our cause and authored a pilot funding effort with trailer bills to authorize $27 million of SRA monies to go to LA County to help with our brush areas. This money would help offset our efforts allowing more financial flexibility in the Camps in particular. We may not get this done as this is the first time a Local Union and Municipal Fire Department has tried to gain status with the state to get direct funding as part of the budget. Previously only Cal-Fire has received budget allocations.

This is separate from budget money for salary and benefits etc. but rather from a dedicated wildfire budget that must be approved by the legislature and signed by the Governor. President Rice from CPF and the legislative team are engaged with Local 1014 to lobby our representatives for support on this matter including courting a Governor's signature. This would be unprecedented if we get this done, and set the tone that each year we along with over 7,000 contract counties agencies will be back to get our share as the protecting agencies for wildfire mitigation.
CPOE: Reminder to Members

DO NOT SUBMIT TO ANY CPOE INVESTIGATION, INTAKE HEARING OR SUBMIT ANYTHING IN WRITING TO CPOE WITH0UT CALLING THE UNION FOR REPRESENTATION. This also applies to any member who needs to file a harassment and or discrimination case. Please call the Union for help and on all CPOE complaints, we intend to file a concurrent complaint with the EEOC or FEHA the federal and state organizations with credibility and authority to handle said issues and complaints. We are trying to get LA County Fire carved out of the corrupt, incompetent and overrun system of CPOE with an option to use EEOC and or FEHA which we can do now.


Local 1014 stopped jurisdictional encroachment by Contract Air

Local 1014 stopped jurisdictional encroachment by contact Aircraft into our Air operations section and established staffing guidelines for HT-55. The Colson's S-76's mission had morphed, driven by individuals within the department, into an airspace management platform in the form of HELCO and ATGS, this would in effect encroach on the work our pilots already have been doing on brush fires. To put it simply, this would be no different than if AMR ran medical calls in replacement of our Paramedics and crews on medical incidents.

LA County Pilots are some of the finest in the world. They have backgrounds in the military, forestry, other government agencies. Before they can even be considered for employment by LA County, they are required 4,000 or more flight and pilot in command (PIC) hours. This experience requirement is well above the industry standard.

Local 1014 worked with Fire Department management to develop a SOP regarding the mission and use of Colson's S-76 aircraft on incidents within Los Angeles County jurisdiction that would preserve and protect the jurisdictional work rights of our pilots. There were also discussions on the staffing of HT-55 and how overtime will be assigned to that aircraft; this included a potential training platform for our members to advance their ICS qualifications. Further discussions will be required to establish work rules for when the Super Scoopers come on contract with the county and the role of the Coulson S-76 at that time. Stay tuned for updates on this issue.
In Solidarity,

President Dave Gillotte and the Local 1014 Executive Board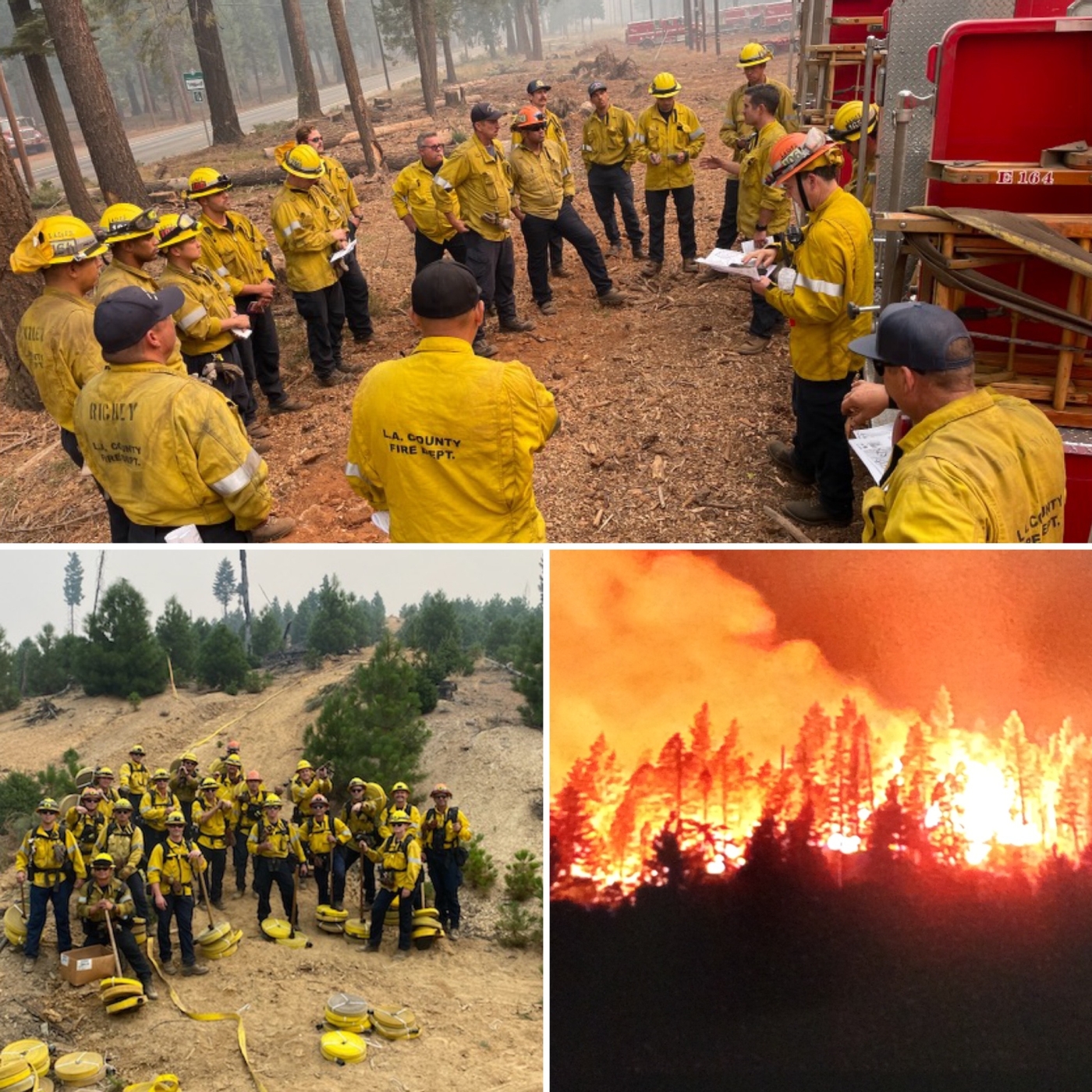 FRIDAY UPDATE ON CONDITIONS

Sisters and Brothers,

Our members have once again been called on to answer the request for mutual aid. The Dixie Fire is now the largest single blaze in California history. Our members join the over 6,000 Firefighters from across the nation as we battle this massive fire. Thank you to all our members who are serving on strike teams away from their families. Thank you also to our members who are backfilling and serving in stations providing emergency services to our 4 million residents throughout unincorporated LA County and our 60 contract cites.
Vaccine Mandates Federal / State / County


Last week was a very busy week for our Union and Unions statewide as we worked to address the state and local pushes for COVID vaccine mandates and policies. Whether you are supportive of the vaccine or not, we recognize that this is an emotional issue. Local 1014 and all IAFF, CPF unions have solidarity in two items: 1) support of our members getting the vaccine and the information needed to support getting the vaccine, and 2) strong opposition to any mandate of the vaccine for our members. While we recognize, based on legal precedent, that the County has the ability to mandate vaccinations, we are opposed and have our own legal precedent to prevent any application of this mandate without a meet and confer with labor.

This Tuesday, we issued a formal letter to the Board of Supervisors stating our opposition to the vaccine mandate.
We know that we can educate, encourage and incentivize most to get vaccinated. We have reasonable accommodations for those who do not wish to vaccinate such as masks, gloves, goggles, gowns, washing, and social distancing protocols that have worked to allow our members to not only remain safe while treating COVID patients in the field but also to keep those we treat safe. There is no denying the numbers drop in COVID cases once the vaccine came out and we began inoculations. We want to continue on a path to keep our members safe and keep the economy open for the citizens we serve and the budgets that pay for our Fire and EMS services.

However, we will continue to battle to get our terms to the table and into an agreement. This will take some time as the Unions of the Coalition of County Unions, (CCU) inclusive of Local 1014, LACOLA , ALADS (Sheriff), PPOA, AFSME 685 (Probation), continue to bargain. Together we have the power to deal with the County more effectively than individually. Our efforts are powerful and pragmatic and we have the best legal counsel money can buy for these issues. Federal, state and local laws all combine here to give authority or rights of bargaining to deal with all aspects of a vaccine mandate or accommodations and the laws that govern. Additionally, Local 1014 has our own legal counsel in a coordinated manner to watch out for our own interests specific to Los Angeles County Fire and Local 1014 members.

We have also been in contact with the Fire Chief and the CEO and we have a good discussion and rapport with both as we navigate where this will end up. The Department is not in any rush, nor bent on any particular plan or direction on this, and truly open to a partnership as we deal with the County and the CEO, and BOS.

We are remaining laser-focused on the facts and the negotiations in process and progress. We understand the diversity of our members and opinions on this subject. We represent ALL our members' interest and their right to medical choice and privacy. We must stay together as one and use our strength to navigate this issue alongside our public safety partners. Thank you for the many useful ideas and input as we move forward with the County.
Negotiations

We are very close to getting a deal for our members and the members of the Coalition of County Unions (CCU). Each week we meet with the County to grind down the numbers and get the best deal for our members. We are moving towards a short-term, budget-friendly, and fair contract with increases in medical premium including dental and vision, an additional Holiday, and COVIV responder renumeration. We are taking the time to get the language and the details for all CCU members including LACOLA, ALADS, PPOA and AFSCME in the public safety sector.

We meet again next week with what we hope are final numbers and specific language relating to our benefit levels and future benefit level protections. While this is a quick less than one-year contract to gain the increases we need to stay current on medical and dental and vision, it is also equally important we take the time to craft the detailed language that protects our plans and members. Almost there and the grind is real and the effort by all Unions in the CCU is strong and united.

Local 1014 Blood Drive
Thank you to everyone who came out to donate blood this past Thursday for our 1014 Blood Drive! Our members continue to demonstrate their commitment to our communities and to the people of Los Angeles County not only through our professionalism but also through our volunteerism. If there is a need, we answer. Thank you to our members and their families for continuing to answer the call.

Stay safe out there and take care of each other.
In Solidarity,

President Dave Gillotte and the Local 1014 Executive Board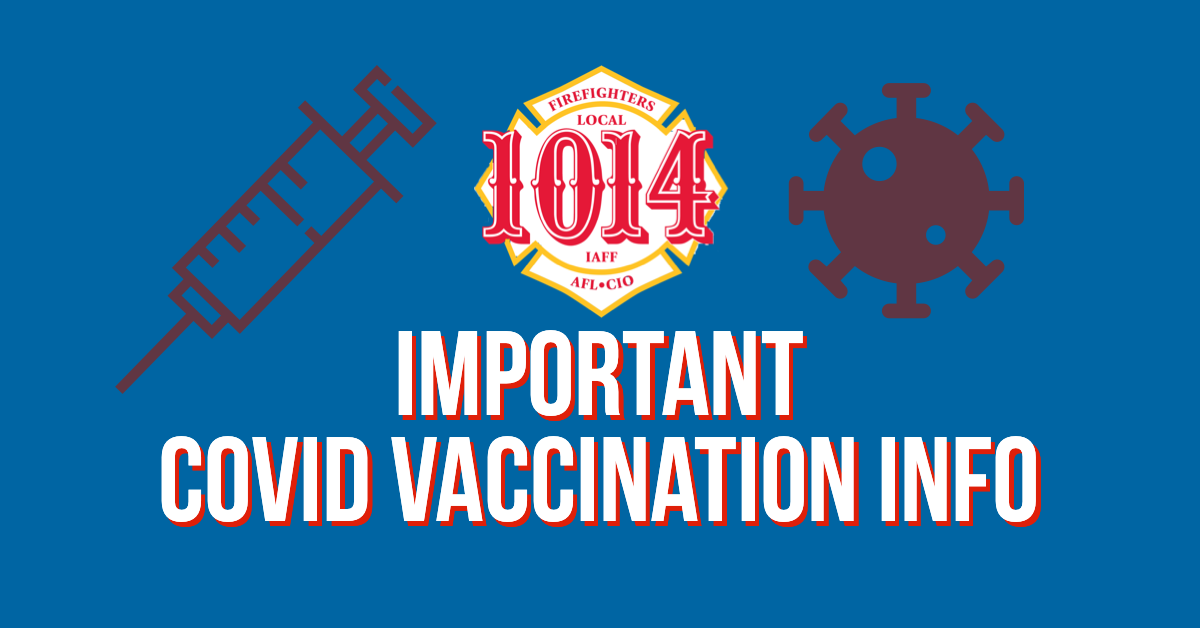 FRIDAY UPDATE ON CONDITIONS

Sisters and Brothers,

Congratulations to our newest Fire Fighter Specialists who were promoted on the largest single promotion list ever in our history. We moved mountains and worked through County DHR and with the Fire Chief and Executive Staff to have an expedited appeal process, offered candidates spots the day they passed and one mass promotion to help expedite filling the FFS vacancies which top the charts on need. The FFS will be pulled in small groups to receive their engineer brush and academy training. Congratulations to the newest straw bosses on our job and good luck in all you do!

Special thanks to Dennis Breshears and Training Services Section for engaging and working on "can do" outside the box solutions to fix a problem. We also reminded the Department that while we celebrate the victory on this project we also must be acutely aware that we now simply are right back where we started with an Engineers list that just expired. The training services section has been tasked with annual promotional exams and the work continues on that plan with expedited FFS exam along with our current and follow-up Captains' exams. We also have two additional FF Recruit classes set for this year and budgeted 8 recruit classes for next year. The vacancies are starting to fill and we fill the impact but this is no time to pause on the effort to climb back to full staffing. Firefighter injuries hover at over 300 per month. Our annual monthly average used to hover near 120 a month. Why are our injury rates so high? A Labor/Management worker's compensation committee is now focused on addressing vacancies due to injury a critical piece of the recall problem.

Also congratulations to our newest Captains who promoted and hit the field after another amazing Captains Academy and Brush Training as we enter into the start of another early and critical fire weather fire season.





Vaccine Mandates Federal / State / County




This week has been an interesting week with elected officials and health officials at the federal and state levels racing to act on vaccine mandates or testing and vaccine status verification.

While over 70% of our members are vaccinated, we also have a small section of our membership who has chosen not to be vaccinated. Your Board understands our members have their own personal beliefs and are passionate about them. We have taken numerous calls regarding the vaccine mandate over the last week. Our UNITED stance is that we do recommend that you get vaccinated, but we are 100% against mandatory vaccinations. This is also the stance of the IAFF and CPF. The battles ahead are going to be fought on every level possible. We both encourage and recommend that you educate yourself with as much accurate information as possible.

The Board of Supervisors are our governing body. We have seen both an Executive Order to mandate vaccines by October and also we are watching a proposed motion. While none of these actions have any immediate authority, the very nature of mandatory vaccines and or testing has some real challenges. We have legal counsel working with us to tackle objection and/or court-supported mandates to bargain over the "impact" of such changes. We also continue discussions with the Board of Supervisors and the Health Deputies on our bargain units' specific situation and how we can best address the health issue. The meet and confer process is where the real work gets done and we will be taking a data-based legal approach to reach an agreement that protects our members' right to choose while maintaining the highest health and safety standards for our members and their families.

Additionally, the IAFF legal firm is also engaged nationally and in Canada as this issue extends to all states and knows no borders. We have been actively engaged with our partners in LA City, Long Beach and the Area 1 Departments and Unions to work together to fight on behalf of our members. Your Local 1014 Board represents every member, and we will fight for all members. This process is far from over so stay STRONG and stay UNITED as we are family.

Negotiations

We are close to striking a fair deal with the County for our fringe benefits. The strained table bargaining table reconvened after we educated and worked with the BOS and CEO on the CCU membership needs. Priorities are increased in medical premium contributions to keep money in our members' pockets and ensure access to the best health care available not just PPO's. These premiums also apply to dental and vision benefits. We have taken great care to craft for our members. We also are working on an additional Holiday and some one-time COVID monies for our members who served on the front lines. We will meet with the County again next week to try and bargain the remaining details to secure a short-term fair contract that will help our families.

Salary contract bargaining will begin at the end of this year as all Unions come out of a one-year contract extension. We look forward to progress on items important to our members and the opportunity to improve our already amazing contract for salary and benefits. Post-COVID economy and other pressures have made the bargaining environment strained but working as labor stewards of our finances as well as our share for fair contracts we remain in good shape economically and from a bargaining position to make smart and appropriate gains a priority for us.

Local 1014 Blood Drive
As you may know, the blood supply this July is at an all-time low for the American Red Cross. They are experiencing a severe shortage of O Negative blood with only a one-day supply at times. They have reached out to our Union for help. We had such an amazing response at our last blood drive, they are once again asking our members and families to step up.

As part of our commitment to our communities, Local 1014 will be hosting a blood drive on Thursday, August 12 from 9am-3pm at our Union Hall. It only takes 30 mins to save 3 lives. Sign up today and be a hero!

To incentive people to donate the Red Cross is offering an epic, once-in-a-lifetime trip! Give blood and automatically be entered for a chance to win a trip for two to the sold-out 2021 Bonnaroo Music & Arts Festival, which includes two VIP Festival tickets, round-trip airfare, one-night hotel + celebrity chef Maneet Chauhan restaurant experience in Nashville, luxury RV accommodations on-site at Bonnaroo, a $500 prepaid concessions voucher.

Additionally, all donors in August will get a free 4-month subscription offer to Apple Music by email!
In Solidarity,

President Dave Gillotte and the Local 1014 Executive Board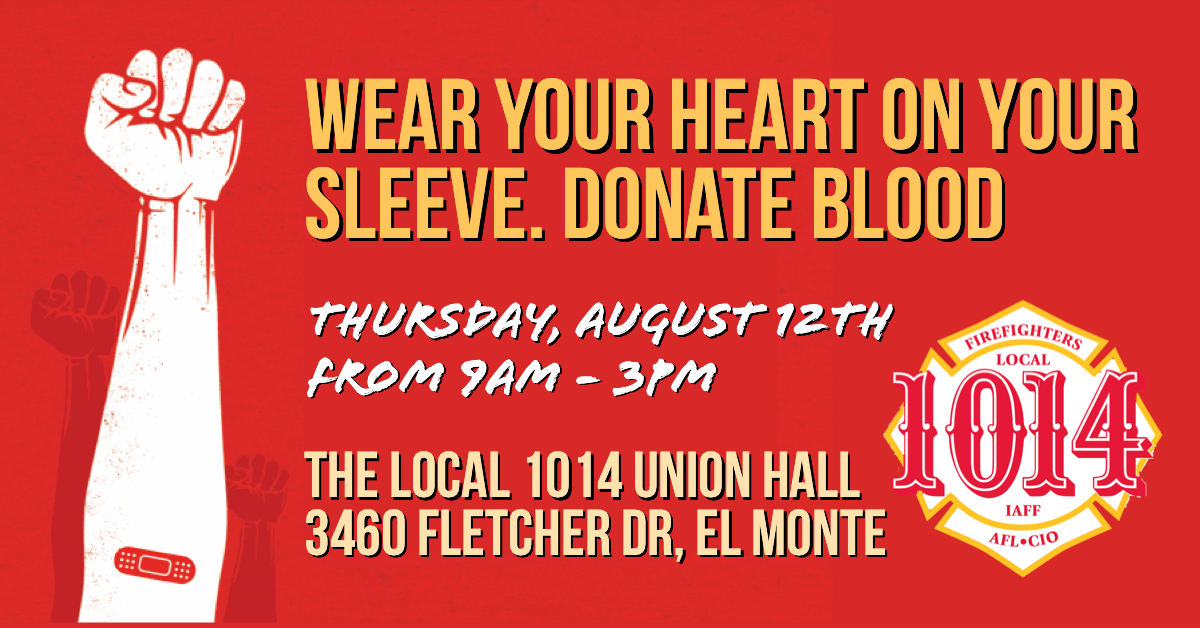 FRIDAY
UPDATE

ON

CONDITIONS


Sisters and Brothers,

As we head into the last weekend in July, there is much to report on and as always never a lack of Union work on behalf of our members and our families.

Let's start right up front with an update on COVID-19 and Delta variant and what the health orders from the State and County mean for us. No one wants to slide back so they are pushing to get as many people vaccinated as possible and hold on to the corresponding dropping case numbers.

The State of California issued a health order for the workers, especially those in health care or front line jobs, either be vaccinated and present proof of such, or undergo weekly testing and be subjected to additional restrictions like masks. The Fire District falls under the LA County Department of Public Health and we will have to comply with their orders. The Department however must "meet and confer" with the Union on the impact of any such order. We have been meeting with the Department and the County in an ongoing manner with regard to all policies and procedures, testing, coverage of days off for our COVID positive members, and more. This will be no different. We have already begun planning in advance how to respond to any County Health order affecting our job and our members.

We must continue to educate all members on the vaccine, including the small portion of science-backed reasons why some should not get the vaccine. We would like to get the numbers up from 70%. Some departments in the Santa Clara / San Jose area are approaching 90% vaccinated. We will then deal with the Department on the policies and procedures needed to comply with any County Health order to get some easy and common-sense policies in place.

In addition, we have been exploring the option of using anti-body testing results in addition to vaccination records to move members who have had COVID and carry the anti-body to be in the same class of no mask requirements. This has scientific validity and we have discussed this with Dr. Kazan and the Department, and we will be sending this idea back to the IAFF Health and Safety Department to work on getting the corresponding scientific data to back this up. While the science appears valid, also there is no testing going on for the duration of anti-bodies in the body, and therefore periodic testing for both vaccinated and anti-body positive individuals may be in the cards. We will be presenting this idea along with our proposals on compliance with the health order to the BOS next week to try and get a common-sense approach that keeps our members and the public safe and preserves their rights and ability to make good decisions and choices with regard to the vaccine and working conditions.

If weekly testing becomes a reality, then how those tests are administered, records, and accessibility will all be negotiated and in place before any testing occurs. We are ahead of the curve once again as we deal with the issue and our members' and families' health and safety.

Please take COVID-19 and the Delta Variant seriously. We have seen a rise in COVID cases in the last month in our County and our members once again stand on the front line taking care of those we serve. We also have many members testing positive, so let's all be cognizant of the realities of how we deal with this still deadly virus. Hang tight as we navigate this politically volatile subject. We have control of how we deal with this new information. Please continue to refer to EA-313 (July 21, 2021) and EA -240 (June 11, 2021) for the latest up-to-date orders and policies in place.

First 30 Day Report by the Fire Chief on Workplace Trauma or Potential Workplace Trauma

We continue to work to move the Department to take action to improve working conditions and behavioral health support services and to remove the disconnect between the leadership and our rank and file. In a relatively short period of time, we have sports back, cessation of masses of online training, and a return of the physical drills. We have the "Captains run your stations" mantra re-established and BC support in place with more officer training to follow, we have expedited all aspects of the FFS Exam to get the candidates who have passed the exam finished and out to the field as they passed, without of class bonus' in play. We see Class 164 in full swing, with two more classes scheduled for the remainder of this year, and a Captains exam and BC's exam in full swing with Acting Deputy Chief Denny Breshears in action to have a testing and promotional testing schedule that will ensure that we never have a shortage of candidates for all ranks of our membership.

There are good days ahead with Local 1014 Directors and Chief Breshears getting back at the promotional process to do some much-needed clean-up with AP's and such. Pat Dolan will head up Local 1014's efforts to revamp things. We have also just secured funding approval for the next two classes and also up to 8 more next year to keep up with retirements and injury vacancies. We will be meeting with the BOS and Fire Chief to continue the work through action, not just words with reporting that is going to happen every 30 days to the BOS.
You may have noticed that Chief Marrone has taken LPBS Deputy position and we are excited to get to work with a passionate long-time officer who has an insight into some of the projects in this Bureau. Congratulations to Chief's Whittle and Mc Cloud for their service and journey to LACERA along with Chief Richardson and of course our friend and amazing IAFF FGS and WFI and Operations Chief Derek Alkonis, you will be greatly missed and thanks for your leadership and work within the IAFF as well throughout your career! Thanks for being not just a member of Local 1014 and the IAFF but an active game-changer nationally. More to come, but big changes are already in motion.

Injury vacancies are next on the list to tackle as we CANNOT SUSTAIN the current levels of vacancies due to injury and the cost associated with those injuries and backfill. Stay tuned as we head deep into the workers' compensation abyss to clean that up again.
Personal Information Data Breach

A few weeks ago there was a data breach with a link to a website that had our personal information mainly vaccine status and dates and birthdate and employee numbers and names.

While this investigation has a long way to go, and we will be involved every step, at this point one thing is clear at no time did the Department or EMS Committee working on a data collection program and site post this to the public or have this accessible to anyone outside of a couple of people in EMS. While the encryption and password issues were being addressed, it was simultaneously posted on a Department employee's Facebook group with the active and then accessible link with redacted but personal information in the graphic. It was then copied and posted on at least two additional employee "private group" pages with hundreds of log-ins to the link.

This is a reminder to be careful and responsible about what you post even on the "private groups" on social media sites. We will keep you posted as the formal and legal investigation continues and let you know what actions will be taken as a result.

Local 1014 Blood Drive
As you may know, the blood supply this July is at an all-time low for the American Red Cross. They are experiencing a severe shortage of O Negative blood with only a one-day supply at times. They have reached out to our Union for help. We had such an amazing response at our last blood drive, they are once again asking our members and families to step up.

As part of our commitment to our communities, Local 1014 will be hosting a blood drive on Thursday, August 12 from 9am-3pm at our Union Hall. It only takes 30 mins to save 3 lives. Sign up today and be a hero!
In Solidarity,

President Dave Gillotte and the Local 1014 Executive Board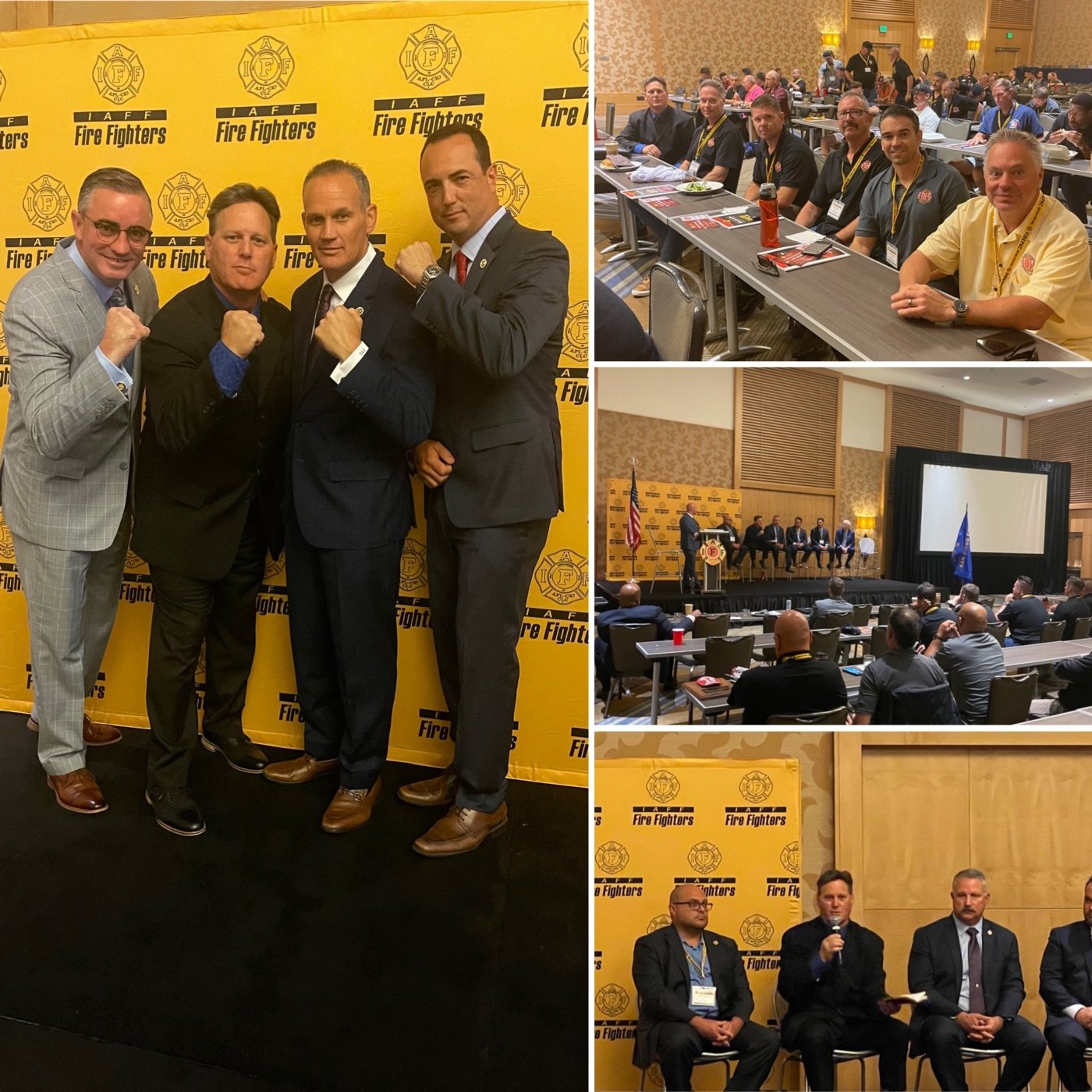 FRIDAY UPDATE ON CONDITIONS

Sisters and Brothers,

IAFF 10th District Partnership Education Program

This week, local 1104 attended the Annual IAFF 10th District Partnership Education Program (PEP) to train tougher, share ideas and network with labor attorneys, Union leaders, and staff from JAC and CPF. The Executie Board took classes on communications, political action, negations, and leadership.

Local 1014 Executive Board members and President GIllotte also took part in a Fire Fighter Shooting Incident Symposium with presenters addressing Sierra Incident, Borderline Shooting, Garlic Festival Shooting, and San Jose Shooting. We discussed lessons learned and the resources needed when handling such major incidents. We are grateful to have worked once again with our Union Labor Leaders from California, Hawaii, Arizona and New Mexico as we continue to resource ourselves to handle all aspects of Union work.

Personal Data Breach

The investigation into what happened is ongoing. We have been meeting with the County and the Fire Department with forensic internet and social media analysis and auditors to know with certainty how this information was made public and what information was accessible. We have hired legal counsel to analyze what impact this has on each and every member of Local 1014's personal information.

This data breach will be costly for the Department. It is our number one priority to ensure that we have proper policies procedures for social media and protections in place to prevent something like this from ever happening again. What needs to be done to protect our members going forward, and any reparations for damages that may have occurred are all being discussed. We will keep you posted on any and all information as we complete the investigation move forward.

This is a very serious issue and many outside independent agencies are involved. The County Board of Supervisors (BOS) is also involved. It was unfortunate to see this matter end up on social media for outside eyes to have access to our information. We take this serious breach of personal and medical information for our members seriously. We will keep you informed as we move this issue to completion.


Negotiations Continue for Fringe Benefits

Local 1014 along with our partners at the Coalition of County Unions (CCU) continued to meet with the County as talks on medical contributions, new holiday time, COVID funds came to a grinding halt last week.

Protecting what we have post-COVID has become paramount to all the Unions, and staying in contract is part of that protection. We are all in a one-year salary contract extension, and we will be looking to align the fringe with that period of time, as we set to meld salary negotiations and fringe into the same evaluations and funding predictions. We are not out of the woods with regard to Fire District Funding and taking time to get all the information from the County and the Auditor-Controller and Tax Collector is imperative.

We open again on Monday with efforts to get the numbers to get a successor agreement signed. Our medical premiums and issues affected by the fringe contract take effect January 2022, so we have a little time to get it right before we agree and get it to you for a vote. More next week as it heats up for a finish.

Follow Up to Fire Station 81 Shooting and the BOS Motion to Help Us Move the Department Forward in Leadership and Management of our Work Issues

The 30-day mark for the first report due back to the BOS is coming up and we have a draft report generated from the Department. We have had many small group meetings between the Union, the Department, and the BOS addressing each item in the motion individually, and we have had one Labor-Management large group meeting. The work was and is time-consuming and difficult as we address issues and negotiate solutions. While good progress in testing, promotions, and moving to expedite promotees appropriately have been taking shape, the longer-term issues that we have identified in this BOS motion will take time.

While we continue to work at the table for change, we also want to be clear that the Department while moving in the right direction, and while the small upfront solutions have helped, we have a long way to go before we are on steady ground. You will see more on the proposed solutions and paths of travel regarding staffing, leadership, and mental health issues in the firehouse as this moves to the BOS and back to us for action.

Words alone will not be sufficient for our membership or this Union. We have been demanding that deadlines, funding, and true change through action are the only acceptable outcomes. We are pleased with the recent leadership changes in the Executive Staff and executive duties especially concerning critical issues like staffing, promotional exams, entry-level exams, behavioral health, and return to work.

We are excited to tackle the proposed solutions with new leadership engaged. Congratulations to the Executive Staff members taking these projects and issues on, but also know that your days just got busier to get it done. We are will asking the entire Executive Staff, the Fire Chief, and BOS representatives back to the Union Hall again for a second follow-up meeting.

Continue to run your stations, drill together, ask about each other at line ups, cook and eat together. Set the priorities to take care of each other, new members, and work to help with staffing as the hiring and promotions continue at a rapid pace to catch up to our needs. We are already starting to see things clear up better in the FF ranks, but the Engineers and Captains suffer because of our lack of promotional process and timeliness. We are on our way to testing annually and lists that have people on them as we get to the end and March April final push to promote for retirements.

PLEASE CALL THE UNION IF THE DEPARTMENT OR LAW ENFORCEMENT REACHES OUT TO YOU TO INTERVIEW OR INVESTIGATE THE FIRE STATION 81 SHOOTING AND THE FIRE ALL COLLECTIVELY THE SIERRA INCIDENT. We have been talking to the Department and law enforcement on their needs to close out their investigation and balancing the needs of our members with regard to Union and legal representation, peer support, and clinician resources. Be aware we have had law enforcement or the Department PPS and ER teams simply show up or schedule meetings to facilitate. You have no obligation to give that interview and certainly, you should not without the resources to make sure all is well and most importantly we have resources for you and your families. Call the union hall if you are contacted for an interview. We will help you.


48/96 Trial Shift Schedule Change Proposal

While there has been much rhetoric on social media and some even speculating where we are on this issue or claiming it is dead, let us be clear again the issue is not dead, but alive and in negotiations with the Fire Chief and the Department.

We have looked at every aspect of the proposal and in short, there is no reason this cannot proceed. All the work has been done to move to the trial. The Department has had every opportunity to evaluate the issue and digest the fact that the majority of our membership and their families are crying for this trial and that control over work hours and home hours are a critical component of workplace satisfaction. We have made a final request for partnership with the Fire Chief and the Department as we move this item to the BOS to begin implementation.

We have set a target date to start of December 15th or thereabouts to start, added a Labor-Management Committee of 3 and 3 with Union President and Fire Chief non-voting, to handle data collection and analysis of the trial as we proceed and to address any start-up issues or needs including adequate staffing levels. We have proposed quarterly reports and a final report back November 2022 with a vote scheduled as well as the final evaluation takes place to determine whether we keep the schedule or not. We had the Department suggest another committee or analysis period and evaluate other issues not related and we rejected that offer. We are prepared to go to the Board of Supervisors to get it done. We hope the Fire Chief hears the membership and our families and joins us as a partner as we look to boldly move in a powerful way to new times.

We see our membership at over 70% now with this item as the number one item of change on the suggestions list. Our continued push on the Department to hire needs to stay in full swing, no schedule change will fix that issue. We must have the numbers up before we migrate, but the schedule control for work-life balance is the issue and heard loud and clear by all, except the Fire Chief and the Executive Staff as we wait for their response back to our official demand letter.

This is such an opportunity for the Department leadership to demonstrate their understanding and connection to the rank and file members and the impact on our families. An opportunity to demonstrate not to talk about removing the disconnect between the membership and the executive side of the Department. We seek not their permission but rather a partnership to bring this to fruition.

Stay tuned news on this early next week with a game plan for the next steps with the Board of Supervisors. This has been a grind and just like Comp Time which we now enjoy. We negotiate to get things done, and this has been no different. This is a hard road but we never give up.

Stay safe and take care of each other.

In Solidarity,

President Dave Gillotte and the Local 1014 Executive Board
Article Archives: Prev
Next of 780 articles