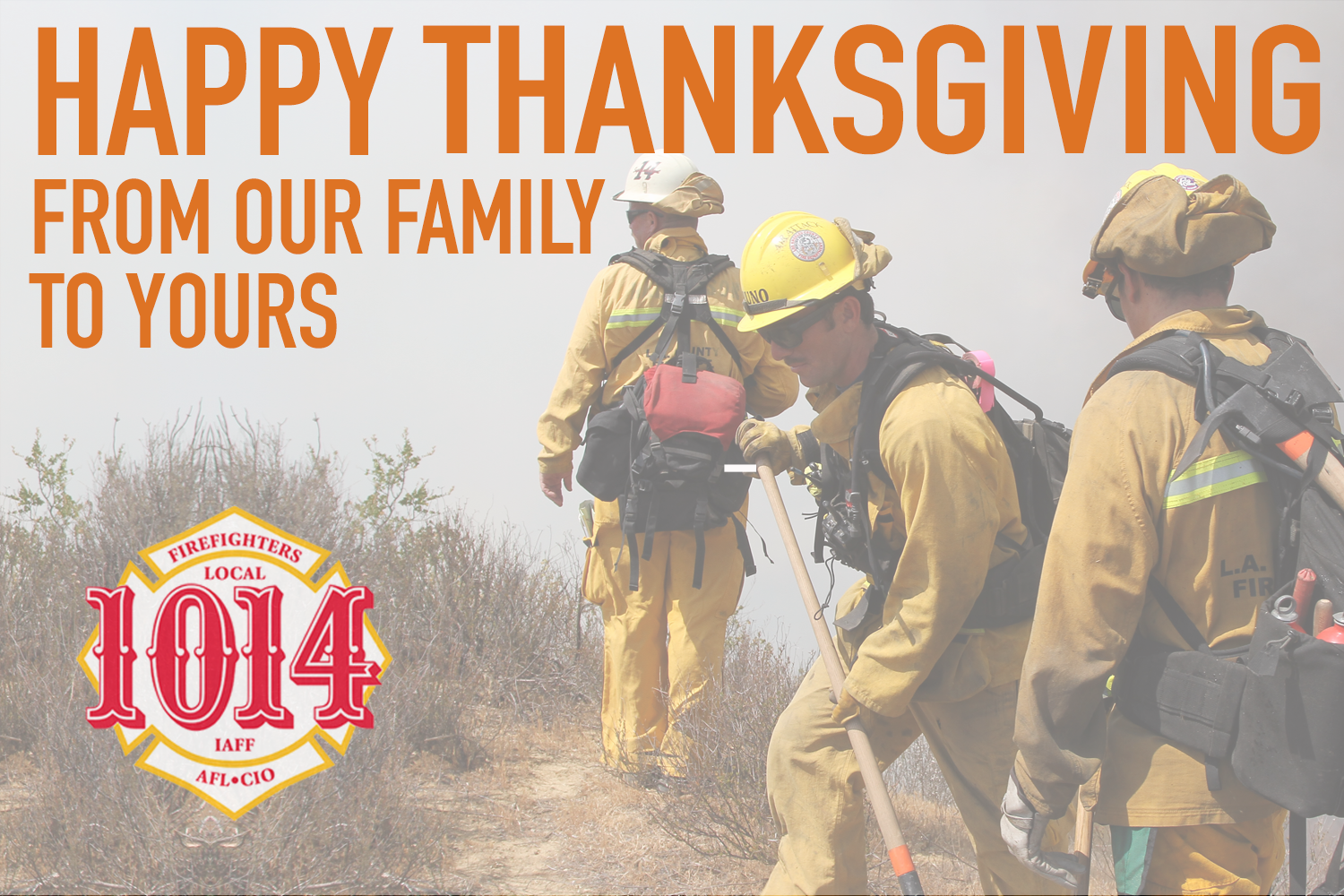 Brothers and Sisters,
As we gather with our families to celebrate this Thanksgiving, many of us after spending more than a week away from our families due to the Woolsey Fire, we pause to reflect on all that we are grateful for this holiday.
We are thankful for you, our members, and for the passion and dedication you bring to the job each and every day as you serve the residents of Los Angeles County. We work for one of the greatest fire service agencies in the world and that's because of the men and women who make it happen each and every day. Last week, we witnessed so many acts of bravery and heroism by each one of our members and Firefighters throughout the State as we battled an unprecedented firestorm throughout California.
Our thoughts and prayers are with all the victims from the Woolsey and Camp Fires, and their families this holiday. If you would like to donate to the relief effort for victims please visit the California Fire Foundation website.
We also had nearly 70 Firefighters throughout California lose their homes as they were fighting on the fire line. The IAFF Disaster Relief Fund provides immediate financial assistance to help these displaced Firefighters and their families while they continue to serve the surrounding communities. If you would like to help, please donate today.
It is an honor to serve and protect the citizens of Los Angeles County and we will always be grateful for the strong unity we have in Local 1014. We hope that this holiday weekend, you enjoy your families, the bounty of food at your table, and your many blessings.
On behalf of the dedicated members of Los Angeles County Firefighters Local 1014, we would like to wish everyone a Happy Thanksgiving and send special thoughts and prayers to those serving in our military abroad and to those serving in our fire stations, dispatch centers and in the community this holiday.
In Solidarity,
President Dave Gillotte and your Executive Board