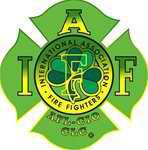 Happy St. Patrick's Day to Local 1014 Members, Friends and Family!


Today and this evening we know our members and their families will be celebrating St. Patrick's Day and enjoying the warmth of our families and friends. We also know we may be enjoying the warmth of green libations and elixirs as well, so we once again remind everyone to enjoy responsibly.

Don't put your job, your finances, your future and your kid's futures on the line by drinking and driving. It is simply just not worth the risk to you and yours, and to the other folks out on the streets too. As always we implore you to DONT DRINK IF YOU ARE GOING TO DRIVE, but if you are going to drink alcohol, GET A DRIVER, GET A CAB, GET A ROOM!

We all have the resources to provide all of the above to plan in advance to celebrate responsibly. If you find yourself in a situation where you have not planned well, and are in trouble, stop and call someone who can come help you make it right. It is never too late until it is too late. Have fun and Go Green or Go Home tonight, but do it right!

Also, there have been many changes at the top end of our Department with more to come, and we have been asked what we know, or what we think. Local 1014 is excited to see the Fire Chief take one more step in setting his feet so that he may run one of the largest and greatest Fire Departments in Country....The Los Angeles County Fire Department - A Tradition of Excellence.

It has been one year since Chief Osby took the job of Fire Chief, and we have seen some very good work and we have also been challenged by so many things collectively, and between Labor and Management. It is not an easy undertaking to step up on the bridge and steer the LA County Fire Ship as most would imagine.

Local 1014 will be making an assessment of where we (Department and Union) are, where we are heading, and how we are going to get there in the next few weeks. We will present to the members a very transparent and honest assessment of the new Executive Staff of the Department, and what we think it means in terms of work product for us all.

To be clear, the reorganization of any major Corporation or Fire Department must have a Chief who has a staff he can believe in, has confidence in, and most importantly is a group of individuals who know how to play on a team and support the leader so that the organization as a whole moves forward and sees progress. I think everyone views the leadership world in the private and public sector the same...the CEO needs to pick his team and set it in motion with guidance and vision and philosophical tenants to collaboratively produce good work product.

It has taken a year to get to the point where we now see that taking shape, and along with good leadership from the Chief and collaboration with the Union, we should see a brighter future in so many ways. We will operate the same as we always have throughout time, and that is to work together and negotiate fair, stakeholder based solutions to problems and a shared ownership of the Department where every member gets one share...no more, no less. From the Fire Fighter to the Fire Chief, and all members and ranks in between, one share. When we cannot come to agreement on issues we will agree to disagree and use all of the tools we have to strongly fight for what is right for the membership we serve, end of story. We have great power and with that comes great responsibility to harness it and use it effectively and for the good of all.

Congratulations to the Fire Chief for beginning to set his team, thank you to those who have served in those top positions and we wish them well in their new endeavors. We close with the final thought that all Leaders from the Department and the Union, and frankly all members of Local 1014, and all personnel from the Department, both sworn and non-sworn better get moving on a fast track to focus on the important issues and items to serve the public well, treat each other better, become a strong team collaboratively to protect Los Angeles County Fire Fighters and Fire Department Family interests as we head into the most tumultuous 2012 finish that is sure to pressure on our voice, our pensions, our healthcare and our budget.

Give that some thought and consider what your role and responsibility is in that movement. What is it you are paid to do at work, and what talents do you bring to the team to help get it done? Concentrate on that for now, and hang tight for more information and framework to step into Union Leadership roles to protect your future. The next Battle is here and it affects you and your family.

Take care and be safe not only tonight, but in general also. It is a dangerous job and quality performance is key to going home the next day. We will be communicating with the membership more frequently as things begin to heat up. This is once again the real deal folks. The real deal.

From you 1014 Executive Board
| | | |
| --- | --- | --- |
| | Dave Gillotte | |
| | President | |
| | | |
| Dave Lopez | John Smolin | Dave Morse |
| 1st Vice President | Treasurer | 2nd Vice President |
| | | |
| | Directors | |
| Will Pryor | Pat Dolan | Lew Currier |
| John Tuck | Andy Doyle | Alan McConnell |