COVID VACCINE & VACCINE MANDATE INFO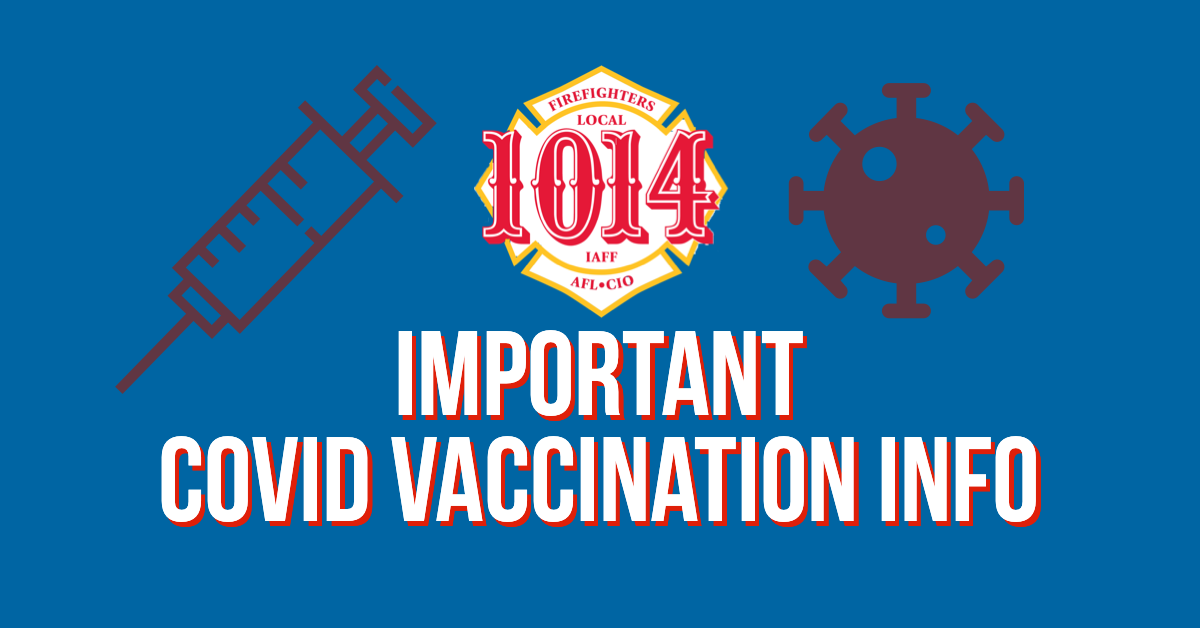 While over 70% of our members are vaccinated, we also have a small section of our membership who has chosen not to be vaccinated. Your Board understands our members have their own personal beliefs and are passionate about them. We have taken numerous calls regarding the vaccine mandate over the last week. Our UNITED stance is that we do recommend that you get vaccinated, but we are 100% against mandatory vaccinations. This is also the stance of the IAFF and CPF. The battles ahead are going to be fought on every level possible. We both encourage and recommend that you educate yourself with as much accurate information as possible.

The Board of Supervisors are our governing body. We have seen both an Executive Order to mandate vaccines by October and also we are watching a proposed motion. While none of these actions have any immediate authority, the very nature of mandatory vaccines and or testing has some real challenges. We have legal counsel working with us to tackle objection and/or court-supported mandates to bargain over the "impact" of such changes. We also continue discussions with the Board of Supervisors and the Health Deputies on our bargain units' specific situation and how we can best address the health issue. The meet and confer process is where the real work gets done and we will be taking a data-based legal approach to reach an agreement that protects our members' right to choose while maintaining the highest health and safety standards for our members and their families.
Local 1014 and all IAFF, CPF unions have solidarity in two items: 1) support of our members getting the vaccine and the information needed to support getting the vaccine, and 2) strong opposition to any mandate of the vaccine for our members. While we recognize, based on legal precedent, that the County has the ability to mandate vaccinations, we are opposed and have our own legal precedent to prevent any application of this mandate without a meet and confer with labor.

We issued a formal letter to the Board of Supervisors stating our opposition to the vaccine mandate.
We know that we can educate, encourage and incentivize most to get vaccinated. We have reasonable accommodations for those who do not wish to vaccinate such as masks, gloves, goggles, gowns, washing, and social distancing protocols that have worked to allow our members to not only remain safe while treating

COVID

patients in the field but also to keep those we treat safe. There is no denying the numbers drop in

COVID

cases once the

vaccine

came out and we began inoculations. We want to continue on a path to keep our members safe and keep the economy open for the citizens we serve and the budgets that pay for our Fire and EMS services.

However, we will continue to battle to get our terms to the table and into an agreement. This will take some time as the Unions of the Coalition of County Unions, (CCU) inclusive of Local 1014, LACOLA , ALADS (Sheriff), PPOA, AFSME 685 (Probation), continue to bargain. Together we have the power to deal with the County more effectively than individually. Our efforts are powerful and pragmatic and we have the best legal counsel money can buy for these issues. Federal, state and local laws all combine here to give authority or rights of bargaining to deal with all aspects of a

vaccine

mandate

or accommodations and the laws that govern. Additionally, Local 1014 has our own legal counsel in a coordinated manner to watch out for our own interests specific to Los Angeles County Fire and Local 1014 members.

We have also been in contact with the Fire Chief and the CEO and we have a good discussion and rapport with both as we navigate where this will end up. The Department is not in any rush, nor bent on any particular plan or direction on this, and truly open to a partnership as we deal with the County and the CEO, and BOS.

We are remaining laser-focused on the facts and the negotiations in process and progress. We understand the diversity of our members and opinions on this subject. We represent ALL our members' interest and their right to medical choice and privacy. We must stay together as one and use our strength to navigate this issue alongside our public safety partners. Thank you for the many useful ideas and input as we move forward with the County.
Page Last Updated: Aug 24, 2021 (14:07:48)